From Nina's Hooking Notebook
by Nina Seaman
From Nina's Notebook - Fall is here and the day is ending much too soon with full darkness by 7:30pm. I am still in Nova Scotia and enjoying a very warm September. The tail end of Florence will reach us this week in the form of heavy rain which is much needed. The trees are very stressed, many of them with brown curled up leaves as well as some with their bright fall colors. The lawn is a crispy tan. Full disclosure, the lawn is a variety of weeds all at one length. Carefully manicured grass is not what grows in rocky soil and chemical dependence does not fit with Oceanside living.
October is here with Halloween, bright leaves, Columbus Day and nice, cool nights. The pallet for the season seems to be orange, dark green, golden yellow and a bit of purple. Witches, brooms, crows, ravens, corn stalks, pumpkins are objects that come to mind when I think of October. In Canada the Columbus Day weekend is Thanksgiving. The menu is similar to the US with turkey, potatoes, dressing, gravy and pumpkin pie with as many variations as there are in every family. It is a time right after the harvest when people pause to give thanks for the many blessings of their life. I think that is a question we all ask ourselves, what are the many good things in my life? In a time when there is so much negative in our social media, press and other sources, can we find the good amongst the bad? My answer is yes! Witness the actions of our guild...demonstrating our skills and encouraging others to get involved , our involvement with the hookers in Guatemala which has empowered them economically, and lots of individual involvement in various causes. I encourage you to think of the causes you are involved with. Surely there is a Hooking there. What about hooking the logo of your organization? What about a mat to be raffled to raise money for your organization? What about selling some of your mats and donating the money to a special cause? What about a mat that honors one of the persons you know who is a leader in a special cause? The ideas are endless.... So call on the artist within you, take up that cause and create beauty to be shown everywhere every day. Happy Hooking! Nina Seaman
From Nina's Notebook - June is here, bringing sunshine, brides, graduations, anniversaries, reunions and other happy occasions. Each one can be a subject for a special mat either to keep for ourselves or to present as a gift.
I have done several mats for my granddaughters to mark their graduation from high school. On one I used the names of her friends, schools, special trips, dogs and other memorable times to show the streams of her life through those growing up years. The second one was for my granddaughter who plans to be a photojournalist. I took some of her photos and hooked them into an album style mat which also included her prom dress and other special events. It was a challenge to design these mats. I wanted to show something that was unique about each girl. I have also done wedding mats, one of which was used in the wedding as the couple stood on that mat when they took their vows. Now it is mounted over their bed as a reminder of those vows. It was a fairly simple design but incorporated their names and their wedding date. This year my husband and I will celebrate a significant anniversary but I confess I have yet to come up with a design for a special mat. Instead I have been busy with two mats for the floor in our summer house, one for the kitchen and one to replace a mat in our living room. Two large mats in a row, time for some small projects! I am sure something will come to mind this summer and it can be my winter project...also I can celebrate all year long! So here is my challenge to you for the summer. Think of a significant happy time in your life...childhood, young adult, arrival of children, graduations, anniversaries whatever is special to you. The best mats are made when we are passionate about our work. The loops fly out of our fingers and we are happy throughout the whole process...even the dreaded finishing! So let the artist within you shine and make that special mat! I wish you a joyous summer. Happy Hooking! Nina Seaman
From Nina's Notebook - My poor daffodils are struggling. They appeared in the midst of the March snowstorms and now mid-April their heads are drooping as if to say, where oh where is Spring!
A part of me wants to bring them inside, put them in some warm water and whisper in their leaves, it's okay. I will make you warm and then we can all rejoice at seeing your bright sunny faces.
You will be reading this in May and I am hoping that you also will be experiencing weather that is above 40 degrees. Although the calendar says spring, it feels and looks like winter. Winter is like the guest that stays too long. The grey weather has cast its gloom too many days. Joe Norris, one of my favorite Nova Scotia folk artists proclaims, when the weather gets bad, "I goes inside and paints me some fine day. " And so that is my watch word...hook some fine day! What is your idea of a fine day? Is it walking on the beach, with the gentle waves breaking on the shore and the sun shining on your face? Is it paddling your canoe on a lake with the sound of loons in the background? Is it walking through the woods with the gigantic trees and branches sheltering you? How about smelling the newly mown hay on the plains? Or the vista of mountains rising majestically into the sky? Or how about those petroglyphs you saw in the caves or stone walls of the west? Weezie and Amy taught us about hooking with T-shirts as they learned in Guatemala. The bright colors and designs of tropical birds and flowers lift our spirits from the grey skies. It is May. The trees are all leafed out, the flowers are blooming and we are making plans for those glorious summer days. Let the artist within you rejoice that at last the weather is warm, and there are some fine days and no grey skies. Hopefully the summer heat has not yet come as there is Hooking still waiting to be done and designs to be made and wool to be dyed...workshops to be attended...the joys of being a hooker! Happy Hooking! Nina Seaman
From Nina's Notebook - My daffodils are not waiting for the April showers that bring May flowers. They are pushing their way through the cold earth and the surrounding snow, and persist in thriving regardless of the weather. Their persistence is encouraging to me.
Sometimes we all get stuck on a problem we encounter while hooking a particular piece. HELP! We call out to our hooking friends, how do I solve this? And almost immediately we have some suggestions. That is the beauty and joy of the hooking community. Often a simple thank you is enough, at other times we need to do more. I have just finished Hooking a piece named Resistance Kitties. It is based on a painting by Meghan LeForte and was introduced to me at the Argyle Fine Arts Gallery in Halifax, Nova Scotia. When I saw it, I immediately knew that I wanted to hook that scene! And so I had Jane Steele of River House Hooking Studio in Petite Riveirie draw it on linen for me. I had a grand time hooking it, combining wool strips, yarn, sari silk and other fibers to create a piece to put on the wall rather than on the floor. The painting and hooked piece also incorporated some of the elements used in the Maud Lewis folk art painting, Three Kittens. When I had finished the piece I wanted to share it with the Hooking community but before I did that, I knew that I needed to consult with the artist Meghan LeForte to ask her permission, as well as to show her how her painting had been translated into a hooking pattern. Her very gracious reply was a YES! PS: she also works with hooking groups so can really appreciate the finished mat. Now when I show the mat, I attribute the subject matter and format to Meghan LaForte, the drawing on linen to Jane Steele and the Hooking to me. It is important that we give attribution to those who helped create our hooked pieces. If it is not our own original drawing, we need to give credit to those who helped us. As rug hookers, we are sometimes guilty of borrowing without attribution. So let's end that practice and give credit to all the artists who helped us create our beautiful mats. The artist within each of us is calling. Spring is coming, the snow will disappear and we will be putting away the down coats and boots. Take out the linen, the sharpie and draw a fine spring day or something that reminds you of that time. Happy Hooking! Nina Seaman
From Nina's Notebook - March comes blowing in with threats of snow, ice and ugly cold weather but soon changes its mind and teases us with thoughts of spring. The sun shines bright but often masks the low temps that cause our rhododendron to curl up in disgust, waiting for the warmth to uncurl its leaves again.
Have you seen the movie Maude? It is the story of a Nova Scotia folk artist by the name of Maude Lewis. She was a tiny woman severely crippled by arthritis who made her living as a housekeeper for an abusive man named Everett Lewis. The two eventually married and made a life together is a small house in Digby on the Fundy shore where he worked as a fish peddler and she made small paintings which she sold for a few dollars each. In spite of her many ailments and abusive husband, Maude was a cheerful upbeat woman whose paintings brought a smile to your face. Her pictures were winsome and nostalgic featuring children at play, deer in the woods, large black cats with golden eyes and pink cherry blossoms overhead. Her small house was a canvas for her red, white and yellow tulips. Today her house has been recreated in the Art Gallery of Nova Scotia in Halifax. In the gift shop you can buy patterns of Maude's paintings for rug hooking. Maude Lewis and Joe Norris, another Nova Scotia folk artist, are examples of people who overcame many difficulties in their lives. Joe was a fisherman who had a serious heart attack at 49 and was forced to give up fishing. When things got tough, Joe said, I goes inside and paints me some fine day. So when March gets too much for you, go inside and create some fine day! The artist within you will be happy! Happy Hooking!
From Nina's Notebook - February is here with its Cupids, hearts, flowers, and bright red. It is a real pick up after the January letdown and grey skies. February speaks of love and passion, reaching out with hugs, kisses and candy. A real feel good holiday! Even for those who aren't feeling well.
February reminds us that it is good to be passionate. St.Valentine and romantic love are celebrated but there are other kinds of passion to think about. For many of us, hooking is our passion. The pieces we are working on consume us...is the design right, what about the color, how much time do I have to finish this? And then there is always, what do I hook next? Sometimes I have three pieces lined up to hook. One which I can only do at home because it requires me to use my large frame, a second one which I call my traveler, small enough to lug around from place to place and hook on my smaller frame and then there is a third piece which exists mostly in my mind and needs further design, color planning and then execution. Last month, I was approached about putting together an exhibit of Hooking. Because few people know about hooking, I am thinking about how I will introduce Hooking, how to show the various types of Hooking such as traditional, primitive, mixed fibers etc. Should I have a particular theme or is it better to have random selections such as houses, flowers, seascapes, farm scenes so there is something to appeal to everyone. All these questions are running through my mind as I plan for this show. It will be a small show, limited to maybe twenty or so pieces, which is more pressure to get it right! All this because I am passionate about hooking! There are other holidays in February which elicit passion. Mardi Gras is a day to party with beads and parades, a day to be in New Orleans. If you love American history, don't forget to celebrate Presidents Day which honors George Washington as well as other US presidents. And so the artist within you has lots to choose from this February. Think about your own passions and honor them Happy Hooking!
From Nina's Notebook - Happy New Year! Is it snowing yet? I am writing this in mid-November and the temperature is 68F. Way too warm! Hopefully it will be more seasonal weather when you are reading this.
New Years is a time for reflection and hopefully some planning for the year ahead. I am thinking of the mats I need to make, the possible designs. What wool do I have, what wool do I need...you know the process.
But I am also thinking of what would challenge me to grow in my work. Do I need to take some workshops, do I need to read some more books on design or color? What will break me out of some of my routines and into some new and creative channels?
HCRAG offers us many opportunities for broadening our work. The special presentations at Guild meetings, the summer school classes with renowned teachers, and Show and Tell are all avenues for new ideas.
And so I encourage you to think of 2018 as a new year with new challenges to make us better rug hooking artisans. I wish for you a year filled with hooks, wool, linen and time to be the creative artist that lives within each one of us.
From Nina's Notebook - Happy Holidays! It is that wonderful time of the year. No matter how busy or stressed we are, there is something magical about this season. Regardless of how we celebrate, or not celebrate, we are reminded of the many gifts that we have received through the years. Many times we stress about gift giving. What really matters to the recipient? Is it the right color, the right size, the right style? If we are making a hooked piece, will they like my choice of subject, the design, will it fit in their decor? So many questions, so little time!
Let's turn the subject around and talk about the many gifts that we have received through the years. For me, one of the greatest gifts I received was when my friend taught me to hook. It is the gift that keeps on giving. The hours and hours of joy and yes, a few of frustration and despair, are countless. It has become my passion, an idea I know many of you share. For many of us, the gift of family and friends is one which can't be matched. Joining together around the holiday table, celebrating the companionship and memories of many years, is a joy in itself. And yes, there are moments of dysfunction and disagreements, but they pale in comparison to the deep seated affection we share with them. I encourage you to think of some of the gifts that you have received and create a mat that celebrates that gift. Maybe it was a doll or toy that was long awaited. Maybe it was a visit with a favorite relative who came only occasionally for a visit. What was something you never expected which suddenly showed up under the tree? My father recalls his joy at seeing the family Christmas tree all decorated. It had been concealed from the kids until Christmas Eve and then the door was opened to the parlor and they were allowed to see it for the first time, all in its glory. I wish for you a holiday season filled with rejoicing and feasting, good times with family and friends. Above all I hope you will celebrate the gift of creativity which lies within each of us rug hooking artisans. It is one of the greatest gifts of all. Happy Holidays! It is that wonderful time of the year. No matter how busy or stressed we are, there is something magical about this season. Regardless of how we celebrate, or not celebrate, we are reminded of the many gifts that we have received through the years. Many times we stress about gift giving. What really matters to the recipient? Is it the right color, the right size, the right style? If we are making a hooked piece, will they like my choice of subject, the design, will it fit in their decor? So many questions, so little time! Let's turn the subject around and talk about the many gifts that we have received through the years. For me, one of the greatest gifts I received was when my friend taught me to hook. It is the gift that keeps on giving. The hours and hours of joy and yes, a few of frustration and despair, are countless. It has become my passion, an idea I know many of you share. For many of us, the gift of family and friends is one which can't be matched. Joining together around the holiday table, celebrating the companionship and memories of many years, is a joy in itself. And yes, there are moments of dysfunction and disagreements, but they pale in comparison to the deep seated affection we share with them. I encourage you to think of some of the gifts that you have received and create a mat that celebrates that gift. Maybe it was a doll or toy that was long awaited. Maybe it was a visit with a favorite relative who came only occasionally for a visit. What was something you never expected which suddenly showed up under the tree? My father recalls his joy at seeing the family Christmas tree all decorated. It had been concealed from the kids until Christmas Eve and then the door was opened to the parlor and they were allowed to see it for the first time, all in its glory. I wish for you a holiday season filled with rejoicing and feasting, good times with family and friends. Above all I hope you will celebrate the gift of creativity which lies within each of us rug hooking artisans. It is one of the greatest gifts of all.
From Nina's Notebook - The pumpkins are turning brown, the leaves are past their prime and November, with its gray and dreary days, is about to encompass us. I will miss the bright leaves and cloudless blue skies of those autumn days. I will also missing seeing the ocean and the beach, as I return from my island summer in Nova Scotia. However, I have a full memory bank and lots of images dancing in my head.
For many years, this was a time for me to do a Santa rug for the family matriarch, Aunt Virginia. Since she is no longer with us, I have tried to keep the tradition going with at least a few Christmas mats to give as gifts. This year I discovered some patterns done on a burlap which was imprinted with shiny silver stars. There were Christmas trees and angels and ornaments to name a few. Because of the printed burlap there was no need to do a background! So I purchased a few and now I have my Christmas projects to work on. For the Christmas trees I can make bright balls with bits of yarn or roving. I can use bright red ribbon for trimming, or I can whip the edges with red yarn. Lots of possibilities! I normally don't use burlap for anything but for a small Christmas hanging that is hung for a few weeks every year, it will work. Now that we have put away our oranges, reds and fall colors, think of some seasonal items you might hook either for gifts or for your own home. Santa is always a favorite, I have 14 to my credit, most of which I distributed to relatives after Aunt Virginia died. I know from Show and Tell, that many of you have made items great and small for the season. Thanksgiving is also upon us. This year we celebrated Canadian Thanksgiving, which falls on the US holiday of Columbus Day. The menu is basically the same as the US, turkey with all the trimmings. The local rug hooking group had an exhibit titled What Canada means to Me to celebrate Canada's 150th Birthday. The mats were varied from maple leaves to Inukshuks, ocean scenes to prairie farmland, personal memories of family homesteads. What are you most thankful for this year? For my family in California, it is being spared from the raging forest fires; for me another summer on Bell Island. There is a mat in this emerging as I write! I wish for you a happy Thanksgiving, a time to think of all the good that surrounds us, and a time to be in touch with the artist within you that brings forth a multitude of creativity. Happy Hooking! Nina Seaman
From Nina's Notebook - SEPTEMBER has come and gone; school has started and fall/winter routine is beginning to take shape. The warm days give us a last taste of summer. Beach houses are closing and ice hockey rinks are opening. The leaves are beginning to turn to their fall colors and the nights are cooler. The full moon came up in a glorious orange. Fall is on the way.
OCTOBER is here with the beginning of its autumn glory. The reds, oranges and yellows are not at their peak, but we know it is coming.
Pumpkins are appearing in the stores and children are chatting excitedly about their Halloween costumes. This year my Nova Scotia hooking friends are taking on a new challenge. We were given a sandwich size brown paper bag of materials from which we are to create a mat. The design must be our own original pattern and we are to use all or most of the material in the bag as well as additional materials which we provide. The size is a minimum of 570 square inches. We can also modify the contents of your bag. The results of this challenge will be exhibited July 1, 2018. My bag contained two brown leather patches, 1/4 yard lime green plaid wool, a pair of gloves with snaps on the cuffs, and two bunches of green noodles cut in #3. Friends know I don't hook with anything lower than a #6 cut. What to do with this bag of stuff? I will keep you informed of my progress. Ps any suggestions welcomed! My challenge to each of you is to try something that is out of your comfort zone. Maybe it is using yarn for part of your mat. Maybe it is trying sari silk for embellishment. Deanne Fitzpatrick once told me to draw my design five different ways and then decide which one to use. I find this process enhances creativity and leads to a better design. And so my rug hooking colleagues, I encourage you to listen to the artist within you to create glorious mats and I challenge you to work outside your comfort zone. Happy Hooking! Nina Seaman
From Nina's Notebook - Nova Scotia Summers – The high temperatures this past week reminded me why I spend my summers in Nova Scotia where the summer temps are measured in Celsius and when it reaches the 30s, you know it is going to be hot. The usual temperature is somewhere in the 20s Celsius or 70s Fahrenheit.
My major task of these past months has been the completion of a large mat to celebrate the graduation of my granddaughter, Kate from high school. She is going to the University of Missouri School of Journalism with a plan to become a photo journalist. So I have used some of her photo images as well as logos of her life to create the mat. I will post a photo of it at a later time after she has received it. Now my task is to clean up the hooking room and pack those items that are going with me for the summer. After a large project it is so satisfying to put things back in place and locate those items that were "lost" in the creative mess of this last project. I confess I am a messy person when I am creating a mat. Time and energy goes into the creation, the cleanup will come later. I am looking forward to being with my rug hooking friends in Nova Scotia and see the creations they have been working on during the winter. I will hear about their adventures at the rug school sponsored by the Rug Hooking Guild of Nova Scotia. That Guild also has a website which shows the works of its members. In turn, they want to hear news about our Guild and I know many of them look at our website. How fortunate I am to be a part of both worlds! Most of all, I look forward to being in my hooking room and looking out at the sea. It is a time for inspiration, contemplation, and experiencing the reassuring motion of the sea, the tides and the clouds. All seems right with the world when I absorb the beauty of this special place, the home of my spirit. And so I wish for each one of you a special place where you can experience the beauty of that space, a time away from the cares of this world and a refreshing of your spirit. The artist within in you will be renewed and ready to go forward with creating new and more beautiful mats. Happy summer and Happy Hooking! Nina Seaman
From Nina's Notebook – Enough Already! - Those April showers have been with us far too long. I know they bring May flowers but enough already. And how about some consistent warm weather, not those teasing scorching 80 degree days followed by 56 degrees. Gray is not my favorite color and yet it seems to be the order of the day. So May, we welcome you but you have to give us some sunshine, warm breezes and all the brilliant colors of spring.
The good news is that the grass is greener, the trees are leafing out and there are buds just about to burst. The azaleas in our yard are gearing up to be the best yet, the little purple tree is in full blossom as is the dogwood we planted to honor my mother in law. Spring is my favorite time of year and I want many days of its full glory! Speaking of flowers and inspiration, have you seen the pictures of the deserts in the Southwest? They are in full bloom because of so much winter rain. From Texas we have the blue bonnets and Indian paint brush, one a vivid blue, the other a vivid orange red. California has the golden poppy which seems to love the side of the road for its habitat and this year is in great profusion. In New Jersey, the flowering pears and others tantalize us with their color. Several years ago I made a series of small hooked pieces about 12"x14" which depicted some of the flowers and plants which I saw on my daily beach walk. There was an iris, which grew in the marsh, a rosa rugosa which grew wild all over our island, some tall grasses, lavender button mums, these were a few of the bookings I made. I mounted them on small wooden frames and arranged like a collage on the wall. They can be rearranged easily as well as replaced with small other bookings perhaps of another season. On the gloomy days, which seem to persist, hooking a bright flower like a sunflower can cheer us up. Or perhaps we can be inspired by the thought of sunny days ahead as we think about the coming of summer. Whatever helps, do it! I continue to work on my granddaughters graduation mat. A labor of love and joy...occasionally punctuated with sheer frustration! I am hoping I will not see too many mistakes when I finish my second round of cataract surgery this week. I am looking on the bright side of it all. Happy Hooking! Nina Seaman
From Nina's Notebook -- Spring is Here -- The lion and the lamb have done their thing throughout March. I don't remember a year when 70 degrees was followed so closely by 32, and all in one week. The daffodils have gotten their dusting of snow as have some of the flowering trees. Now is the time for those sunny skies and continuous warm days to be the norm. And oh yes, I guess we need a few of the April showers to make it real. Welcome April with your budding trees and blossoming shrubs and flowers.
I grew up in the suburbs of Washington D.C. and I knew that spring had come when the cherry blossoms appeared in the Tidal Basin. The cherry blossoms were everywhere though, lining the streets of suburban Maryland and Virginia along with the azaleas which were in almost every yard.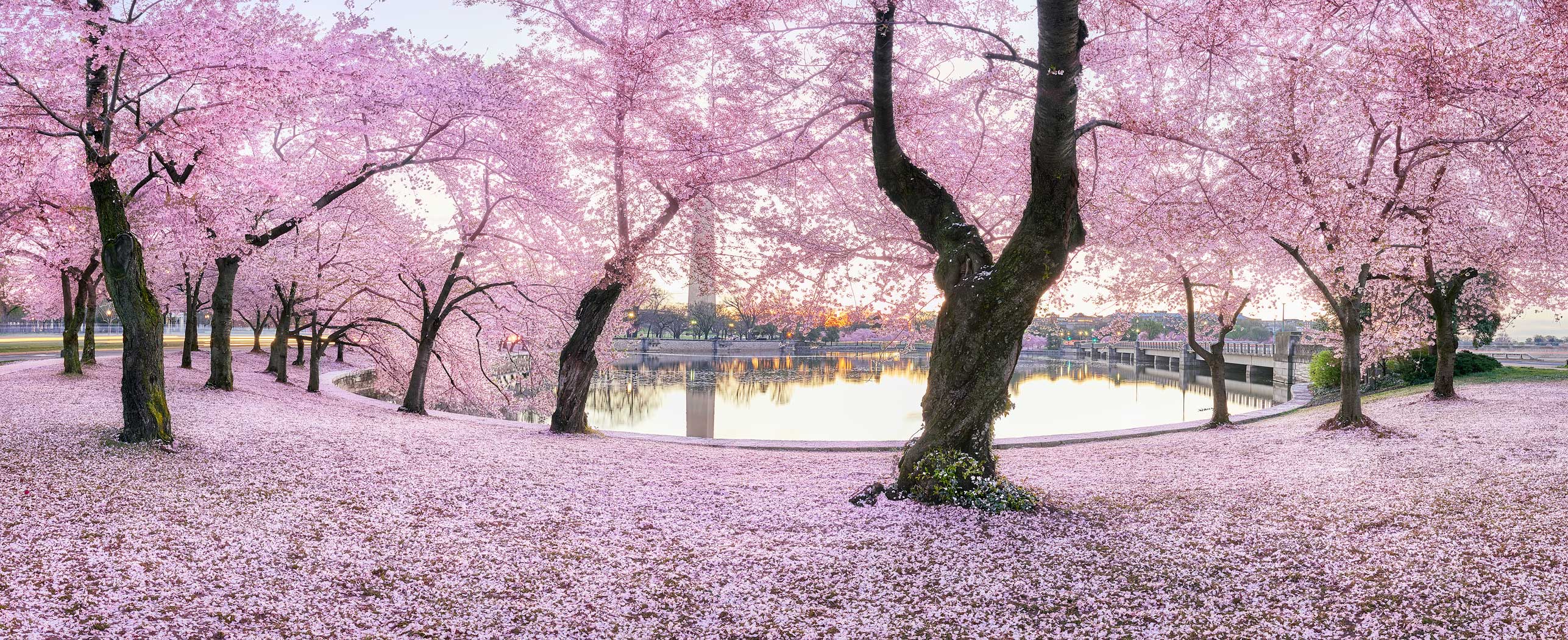 It was my favorite time of the year because after that it was all downhill with hot and muggy weather until late October. Three years ago in April, I was struggling with a large mat which was a graduation present for my granddaughter. Now it is time for her sister to graduate and I need to come up with a design for her rug. And so I begin to think, what really represents her? Is it her activities, her travels; how do I portray her spirit, her empathy, her work ethic? How do I show some of the milestones of her life? Many ideas are swirling in my head and soon they will settle into something meaningful. Some of the colors are obvious, others will need some tweaking. Weddings, graduations, anniversaries, special religious holidays; all are in the mix for April. So are bunnies, painted eggs, flowering trees and bushes...the list is long and limited only by our imagination. So focus on one of these events, take out the linen, your hook and those bright colored strips calling to the artist within you and welcome spring with your own special gift of a new mat! Happy Hooking! Happy Hooking! Nina Seaman
From Nina's Notebook -- March Is Here... will you come IN like a lion, blasting us with snow, wind and ice? Will you go OUT like a lamb, meekly and gently, leaving behind soft breezes and budding flowers? March is often a tease, blustery and cold one day and calm and warm the next. It is an eternal guessing game, a contest between lion and lamb.
Have you found Pinterest on the internet? It is a wonderful resource for ideas, images and inspiration for rug hooking. For instance, if you are thinking about March going out like a lamb, you will find numerous hooked pieces featuring lambs. You can have a lamb surrounded by roses, one with a wreath of hollyhocks and more! Warning: it is a rabbit hole which will entertain you for hours! PS. You can find rabbits there too!
But what about the lion of March? We often picture the lion as roaring and menacing but Edward Hicks, an American Folk artist of the 19th century pictured the lion quite differently. Hicks created a series of paintings called The Peaceable Kingdom. These paintings illustrated verses of the Bible which spoke of the lion lying down with the lamb; animals and humans creating an earthly kingdom filled with peace and harmony. The lion would use his strength to protect rather than consume the lamb. Patsy Becker had a hooking pattern with a friendly lion and a cuddly lamb set against a starry night sky and words about Peace on earth written in the border. There is also an old folk art pattern of a lion in the jungle which looks more like the stalking, ferocious one we see in nature documentaries. So we have many choices as how to portray and hook either the lion or the lamb. So March, come in with all your bluster and bluff. Be a lion or a lamb, we will hook on until the real spring arrives to lure us from our frame and hooks. In the meantime we wool artisans will continue to create our art and find beauty in each day! For further information on Edward Hicks, go to
www.Folkart.com
Happy Hooking! Happy Hooking! Nina Seaman
From Nina's Notebook -- Winter is upon us and so far it hasn't been too bad. Some snowfall but no blizzards, cold spells followed by warm and moderate and best of all, dreary days to stay home and hook on our latest project. Yesterday I hooked with a group of friends while sitting beside a wood stove exuding warmth and coziness. No better way to spend a winter day!
Looking for something to write about besides the usual Valentine Day, Presidents Day and Groundhog Day suggestions for February, I came across a bizarre list of "days" to celebrate this month. Have you ever heard of Toothache Day? Neither had I, but it conjures up a picture of someone with a bandanna wrapped around their head, a pained expression in their eyes, and hand to aching jaw with lightning bolts of pain radiating from their head. For a folk artist, this is a great subject. Anyone with major teeth issues could relate to that mat! Two others with appeal might be Eat Ice Cream for Breakfast Day or Plum Pudding Day. Either one of those can set our mouth watering as well as suggesting some designs. And then there is Tell a Fairy Tale Day. For all those with young children or grandchildren, what could be more delightful than hooking a mat illustrating a fairy tale. I have done several mats using a pattern of the three bears. This particular pattern shows Momma, Poppa and Baby Bear carrying dishes of porridge against a woodland setting. For my granddaughter I changed the baby boy bear to a girl, complete with frilly dress. Whatever the favorite fairy tale, or other childhood story can be a subject for a mat. Or perhaps you could use a child's own story that they like to tell as your subject. My favorite of the bizarre days was Random Acts of Kindness Day. It sets you thinking about many possibilities for doing just that. For hookers, making a small hooked piece such as a mug rug or table pad or small runner provides a ready gift for such an occasion. Who isn't delighted to have something that is handmade and given with kindness and caring! Both giver and receiver are rewarded. In the winter days when we feel grumpy and not ourselves, an act of kindness suddenly turns our world into sunshine and light. And so we celebrate February with its red hearts, patriotic flags and weather predicting mammal as well as bizarre and contrary days. Those dreary, grumpy days we turn into times when the artist within each one of us awakens and says, time to start hooking a new mat and out comes another beautiful creation. Happy Hooking! Nina Seaman
From Nina's Notebook – Happy New Year! -- A Time for Beginnings and Celebrations of Times to Come.W.H. Auden, the poet said of the season, "and the Time Being to be redeemed from insignificance."
How do we redeem the "Time Being" in our own lives in these times of turmoil and upheaval? For many of us, our art, rug hooking is our redemption. The act of creation, the design, the color planning, the gathering of materials, the hooking, the finishing certainly "redeems the Time Being from insignificance." This year as we redeem the "Time Being," let us all resolve to be our most creative selves. "Artists are not born, they are made...curiosity, experimentation, fearlessness are required" says Deanne Fitzpatrick. At our HCRAG meetings we have an opportunity to hear and see examples of these characteristics. Weezie talks about elements of design. Show and Tell is a showcase of experiments with various materials and stitches. There are times when we need to talk ourselves into stretching out of our comfort zones and go forward. I often close my Notebook blog with the admonition to claim the artist that lives within each one of us. We are all artists. Our works may not hang within a famous museum or be acknowledged by Celebrations Magazine or may be in a style which does not appeal to some of our fellow artists, but it is art. Let us honor our hooked pieces and ourselves - the artists who create them. Above all, we are members of Hunterdon County Rug Artisans Guild and the important word is artisans. Happy New Year! Nina Seaman
From Nina's Notebook - December is here with all its busyness, demands, occasions of fun and play as well as days and nights filled with obligations we would like to shed -- truly a mixture of happiness and dread. How will I fit those twelve people around my dining room table for Christmas dinner? What special gifts can I give my children and grandchildren - something unique just for them?
When it comes to gifts, my first thought is always of hooked items. What is new for this year? I look around at what the HCRAG artisans have created and there are many. Snowmen, Christmas trees, ornaments, owls; the list is long and varied. One of the websites I visited had a series of words painted on small canvases which could easily be adapted to hooking. Words such as joy, kindness, love, could be hooked on the linen and then stretched over a small frame. You can match the word to a characteristic of the receiver. Deanne Fitzpatrick this year hooked a number of small landscapes and attached them to a small canvas and hung them in an artistic cluster (Her website is
www.hookingrugs.com
.). If one of your gift receivers has a special place such as a lakeside house, a series of two or three scenes would be appreciated. Michaels has small wooden frames for sale for only a few dollars which would suit this project. Trace the frame onto the linen, draw on the design, hook it, cut away the excess and staple to the frame. Cover the back with colored paper on which you have written the name of the piece and your signature. --- VOILA! A splendid gift! I wish for each of you a joyous holiday season filled with family, friends and times of peaceful rest. Happy Holidays! Happy Hooking! Nina Seaman.
From Nina's Notebook -- Thanks-giving! - A word associated with the month of November. I put in the dash to emphasize that it is a time for us to think about the bounty of our lives and give thanks. November is often a dreary month, filled with chilly, gray days. The trees are bare, the ground has turned to beige and only a few bright berries hang from the trees and bushes. The world around us appears to be moping. Even the sun when it does appear is pale and wane, giving off little warmth or light. It is certainly not enough to lift the pall around us. And yet in the midst of the gray and somber mood we are asked as a nation and as individuals to give thanks. At first I am tempted to say, for what? But I am quickly reminded that there is much for which I am thankful.
After family and friends, HCRAG and all the hooking mentors which I have had as well all the hooking groups to which I belong are at the top of the list. The rug artisans who gather each month offer an amazing range of talents. Show and Tell each month is certainly a witness to that. The programs presented bring new and exciting information about our art. The wool that Jan and Fred Cole bring provides us with the necessary materials to hook. And how could I fail to mention our newsletter, website and gallery as sources of inspiration?
Being thankful is a state of mind which benefits each of us as rug artisans. Each day brings new opportunities to meditate on this idea. New designs come pouring out of our heads. For example, Thanksgiving, the holiday, is usually a time when families gather for a special meal. Who are some of your favorite people at that gathering? Perhaps a portrait of that person is in your future. And what about a place that is most meaningful to you? As many of you know, my island home in Nova Scotia appears many times in my mats. Animals are beloved subjects too...birds, cats, dogs whatever was your favorite can be immortalized in a mat.
And so, in spite of the gray, gloomy days, we will summon the artist within each one of us and contemplate how we will display our thankfulness for the bounty we have! Happy Thanks-giving! And Happy Hooking! Nina Seaman
From Nina's Notebook – Fall is Here! - Fall is definitely here with cool mornings, warm days and early twilight. Why does it get dark so early?!!!! The changing leaves and browning ferns by the side of the road confirm the seasons change. And then there are those lavender button mums adding a touch of color to the scene.
My summer project was based on Weezie's challenge to create small sketches inspired by what caught your fancy each day. She also loaned me a pattern with thirty spaces of various shapes and sizes. The goal was to create a design and hook it each day for a month. This goal proved too difficult. Some days I could generate several sketches but didn't get them on the linen. Sometimes the sketch would take me several days to hook. So I modified it to putting on one design (or maybe more) every few days and then hooking several spaces before putting in the next set of designs. I tried not to overthink the design or their arrangement. I did follow the numbered spaces pretty much in order...doing 1, 2, 3 before proceeding to the next numbers. I did group some items together, such as flowers of early summer and autumn leaves. A first it seemed like a daunting task. The mat measures 55" x 31". However, I really enjoyed the challenge. Each section is a small vignette of a favorite scene or object. And yes, there is a hook in one section with a hit or miss background. Memories of past summers came flooding back as well as highlights of this summer. A flamingo made the cut because a flock of them appeared on our lawn for my birthday. Ps...They were of the plastic variety.
I loved the various types of hooking and used different materials including sari silk, roving, slubby yarn, in short, a melange of fibers to add texture to the piece. So far I have 20 sections finished and just 10 to go! Hopefully by November Guild meeting it will be finished and ready for display. Thanks, Weezie for the challenge!
And so I challenge each one of you to discover the artist within and rise to whatever challenge you choose! Happy Hooking! Nina Seaman
From Nina's Notebook – The email arrived this morning with its gentle plea... please submit your article for the September newsletter. The breeze on the beach this morning had a wee edge, suggesting cooler days are on their way. On the drive home I spotted some red leaves on the trees, a sure sign fall is coming in. The fuchsia and the red and pink roses that greeted me this June are now filled with orange red rose hips, pointing again to a change in seasons. The fruit flies are dying but the mice are deciding it may be time to look for a winter home. Not this house, I proclaim loudly, hoping in vain to persuade them to look elsewhere.
All these hints of fall bring both joy and sadness. I am mourning the end of summer with its days filled with family and friends; skiffs and sail boats, dinners and coffee hours. The summer was one of the best in years, weather wise; continuous days of sun, warm water and breezes followed by cooler nights. Best of all there were celebrations of lives well lived with more days ahead, milestones of accomplishment and talk of exciting adventures ahead for all of us. Hooking groups met every week so there was an opportunity to see the work of my Nova Scotia hooking friends and hear their plans for fall projects.
I shall miss sitting on my deck with its view of the open ocean and watching the sun make the water appear as it there were diamonds sprinkled on the surface. The full moon casts its light also, bringing back memories of years past when we would sail out to the big clanging bell buoy with just the moonlight as our guide.
All these remembrances of summer will keep me warm during the cooler days of fall. The red leaves of the changing season will hopefully inspire a new series of rugs celebrating the fall. So join me in welcoming this new season and the challenges it brings to the artist that lives within each one of us. Happy Hooking! Nina Seaman
From Nina's Notebook – Welcome Home - The trees are full out, the spring flowers have had their fifteen minutes of fame and now we are in the transition to summer. Summer for me is the return to our island home in Nova Scotia. It has been a ritual of many years and I can still feel that surge of love when I first see the dunes, the roses and the water as we drive down Crescent Beach on our way HOME.
Deanne Fitzpatrick has a new exhibit of rugs in her studio on the theme of Home. She has revisited artistically the home of her childhood in Newfoundland and created what I think is some of her best work to date. I urge you to take a look at it on her website Www.hookingrugs.com. She has inspired me to think again about creating some mats on this theme. The first solo exhibit of my work was called Welcome Home and it chronicled our family's summers in Nova Scotia. So this summer I am going to take a new look at some familiar scenes and find a different perspective. What I do know is that I will see it with even more passion as through the years this time spent there has become even more precious than ever. This month the death of a dear friend and extended family member reminded me that life is precious, long or short, and each day is to be celebrated.
So, think of the theme HOME and what it means to you. Whether it is the building itself, or an object within, or perhaps your gardens -- use it as the beginning of your creation. Whatever the focus, do it with passion. Soak in the beauty of your surroundings and then allow the artist within you to create a mat which will show the world the depth of your feelings about the place you call HOME.
Happy Hooking! Nina Seaman
From Nina's Notebook – Welcome to the Merry Month of May! I am merry because spring is in its full glory; the azaleas in my front yard are blooming, many trees are fully leafed out and there is an occasional glimpse of summer with those super warm days. Even the "snow birds" are returning....all seems right with the world.
I am currently finishing two projects, one for a rug show in Nova Scotia featuring boats and fish as an homage to the collapse of commercial fishing. Karl and Mary Jo Gimber inspired me to try my hand at a small tavern sign and now I have a Seahaven B and B mat to hang in my guest bedroom.
My thoughts are turning toward summer and our annual trek to Nova Scotia. "Stuff" is beginning to pile up in our dining room. As our family says, "nothing ever dies, it goes to Nova Scotia to live." I am sure each one of you has your own "Nova Scotia" ...an attic, garage, spare bedroom, closet or wherever, for "stuff." Perhaps I need to read some books about getting rid of the stuff that doesn't bring you joy.
What does bring me joy is my hooking room, filled with wool, yarn, sari silk and all the other good stuff I need for hooking. I have enough "stuff" for 50 hookers! Do I see lots of heads nodding, smiles of recognition? However, it may be time to part with some of those bags of worms (the beginners workshop?), those pieces of fabric that aren't your color palette (the remnant table at the Guild meeting?). Yes, May brings on the desire to do some spring cleaning and clearing!
I think I will put aside the desire to clean and turn to the task of designing a hall runner for my daughter in law. I urge you to think spring with all its newness and delights. Think green, pastels, blue sky and lots of merry times discovering the artist that lives within each one of us.
Happy Hooking! Nina Seaman
From Nina's Notebook – Spring is here! Daffodils, tulips, flowering trees, red buds soon to become green leaves, yellow green willows weeping over the greening grass....WELCOME! Gentle rains and even snow showers come accompanied by gusty winds but the days seem brighter and our thoughts turn to gardens and plans for the summer. Some of us exchange our hooks for garden tools, happy to dig into the earth rather than a pile of strips.
Fortunately there are those days when the cool winds and torrential downpours force us to stay inside. My favorite Nova Scotia folk artist said, "when the weather gets bad, I goes inside and paints me some fine day." What is your definition of some fine day? Does it focus on a garden full of flowering plants and blooming bushes? Then let that become the focus of a new hooking. Or perhaps make one large flower in your favorite color.
For me some fine day is a day on Bell Island, my summer home in Nova Scotia. The small, wild rugosa roses that grow in my yard in various shades of fuchsia, pink and red are often found in my hookings as well as the very large rose bushes that grow in the dunes of Crescent Beach where I walk on those fine days. The houses and fish stores of the Island have been hooked by me more times than I can remember.
Some fine day may be a place you have visited while traveling here or abroad. Remember those towering mountains, the waterfall, Northern lights, wide expanses of beach or the structure of a building; something you have caught in that special photograph that unleashes hours of memory. A great subject for a mat!
Whatever you choose for the subject of your mat, let it be something you are passionate about. Mats hooked from an inner passion are almost always your best pieces. The hooking of it is easy, the loops fly out of your fingers. You can feel the excitement and pleasure rising as you hook. And then when it is finished and on display, you smile and know that you have connected with the artist that lives within each one of us.
Happy Spring and Happy Hooking, Nina Seaman
From Nina's Notebook -- Oh March, will you be a lion roaring with cold winds and icy rain or will you be the lamb with warm breezes and bright sunshine? Or will you tease us with budding trees and emerging flowers only to cover them with flakes of snow?
In Newfoundland and Labrador February and March were knowing as the "matting" season, a time to set up the frame and turn out rugs, wall hangings, whatever was needed or wanted. Paula Laverty in her book Silk Stocking Mats: Hooked Mats of the Grenfell Mission tells the story of Dr. Grenfell and his mission to provide medical care to the outports and underserved communities of Newfoundland. Women in these areas already knew how to hook using their own designs, materials and equipment which they fashioned from whatever was available locally. An example, hooks were bent nails inserted in a block of wood which was then whittled to fit a woman's hand. Dr. Grenfell introduced their mats to some of his volunteers from New York and New England. The volunteers saw this as an opportunity for the women to sell their mats and provide extra income for their families. The volunteers also collected materials such as silk stockings and underwear to send to the hookers for their mats. Let your stockings run to Newfoundland was their motto. They also set up retail shops to sell and promote the production of mats. A brief review of the book and the Grenfell Mission can be found on Face Book as part of an ad to promote tourism in Newfoundland and Labrador. We may not want to hook polar bears or ice floes or use silk stockings but March provides us with lots of inspiration. This year Easter falls on the last Sunday in March -- bunnies, colored eggs, little lambs all come to mind. What are some of your images of March? And how about those shamrocks? Or an Irish pub or tavern sign using the information the Gimbers gave us at the last Guild meeting as our guide. March 8 is International Women's Day. Who are the significant women you have known or admired and how would you honor them in a mat? So, March blow in or blow out, creep in with warm sunny skies and nourish those buds soon to become flowers. Tease us, taunt us but let us get back to the serious work of March, being the rug hooking artisans we are! Happy Hooking! Nina Seaman
From Nina's Notebook -- It is snowing... big heavy flakes, piling up in drifts and bringing the day to a halt. The headline reads "In Case of Blizzard, Do Nothing!" For a rug hooker, it is a day of bliss. We can hook all day long and not feel guilty! We have already prepared for the snow day with lots of foods already cooked in the fridge or freezer; others are occupied with school work or shoveling....on to the frame, pick up the hook and enjoy!
February is a month with lots of holidays and themes for mats. In my house, it is a month of birthdays. If it is a significant or milestone birthday, this can be the basis of a design. For instance, a fiftieth anniversary can have blocks showing important events in a couple's life. My granddaughter, Kate is turning 17 and I can see her in a car heading out on twisting and winding roads with mountains, seas and deserts in the landscape.
Then there is Valentine's Day, always a special day with hearts, flowers and chocolates! But how about something different with those hearts? What about a geometric with hearts instead of circles or granny squares? What if the hearts were of alternative fabrics, like velvet, sari silk, yarn, tweeds, and plaids of wool? We are limited only by our imagination.
And then there is Ground Hog Day. I love those pictures of elderly, plump gentlemen with mustaches and beards, dressed in formal clothes and top hats while holding a wiggly fur animal who clearly wishes it was somewhere else. What a fun, folk art piece that could be for this curious holiday!
Chinese New Year which is celebrated on February 8 this year gives us a chance to explore the Chinese zodiac of animals for the twelve year cycle. This year is the year of the monkey according to the website travelchinaguide.com. The lucky colors are white, gold and blue and the lucky numbers are 1, 8 and7. Surely there is a mat design in all that information!
Mardi Gras is another inspiration for a mat. Think of the colorful costumes, the beads, the symbol of Rex, King of the carnival who would be throwing strands of purple, green and gold beads to all the revelers in New Orleans.
These are just a few of the celebrations during the month of February. I can also mention Black History Month, Super Bowl Sunday, and Presidents Day. See the list on Google for more ideas. Whatever strikes your fancy is a resource for a design!
Happy Hooking! Nina Seaman
From Nina's Notebook -- Happy New Year 2016! - A new year and my mind races ahead to some of the coming events of this year -- a significant birthday, a new knee for my husband, a presidential election. Those are the main events. And then there are the small but oh, so meaningful pleasures of every day -- walking on the beach in the summer, feeling the sunshine on your skin, watching the flowers grow, the smile of family and friends, the unexpected note from a friend of long ago. Each one of us has our own personal list. It is often hard for me to wrap my head around a year. A week, a day is much more doable. Carpe Diem, one day at a time, that seems possible. Life hands us good days and bad, times for laughter and tears...woven together in a tapestry of light and dark.
Michele Micarelii's presentation in November included a mat which she made illustrating aspects of her life and personality. In it was her family, her special causes such as the environment, aspects of her personality...the jester, her accomplishments...hooking the red rose as well as other illustrations of her passions. It is a remarkable piece of hooking, highlighting periods of her life. The color, the design, the use of symbols, materials...it is a mat which profoundly moved me in many ways. It was one which you could see and study for days and discover something new each time.
So what amazing, complex, fascinating mats are ahead for you this year? Some of them are already in their formative stages; some are mere whisps, floating in the recesses of your mind; still others are out in space, waiting to come to light when the moment is right. Let 2016 be the year when we open our minds and hearts to new ideas, new challenges, new experiences in rug hooking and discovering more of the artist the lives within each one of us.
Happy New Year! Nina Seaman
From Nina's Notebook -- Winter is a Comin' in! - The wind has a nasty nip to it, the trees are bare and the sky is now a pale blue. Bleak and grey days are becoming more frequent. Visions of snow flakes, kids on sleds, cozy fires and wreaths of balsam dance in our heads. Warm, wool clothing has come into our closet, away with the pastels of summer and the cool cotton shirts we love so well. Turtlenecks, boots and down coats are in fashion again. Soups and chowders, root vegetables and hearty stews are the meals of choice.
The holiday season is upon us. Green and red are the colors of choice. Carols play softly in the Mall and the ho ho ho of Santa is in the air. This year it seems that Thanksgiving has been forgotten in the rush to get us thinking about shopping for Christmas.
Regardless of our personal traditions and wishes, there is a buzz of excitement and anticipation. Out come the decorations; family treasures of ancient vintage as well as contemporary additions. Each one is a keepsake for generations to come. Each one carries a special memory. Whether we celebrate in a religious or secular way, the holidays are a time for reflection and gratitude for the many gifts life brings to us throughout the year. As a rug hooking Guild, let us celebrate the gift of creativity that lives within each one of us.
Merry Christmas! Happy Holidays! Feliz Navidad! Nina Seaman
From Nina's Notebook – Hooking with Yarn - The last of the leaves are falling. I will miss the bright reds and oranges, the golden yellow and the piles of leaves of many colors. But now I am beginning to see the sculptural structure of the trees. I am intrigued by the texture of the bark, the configuration of the limbs and branches, all set against the bright blue autumn sky....a feast for the artists eye
After Show and Tell at the last HCRAG meeting, some of you approached me about hooking with yarn. I had made a small mat from various yarns. The design was adapted from a watercolor by an artist friend of mine. And yes, I had asked her permission which was readily given. Most of the yarn I had acquired from several local shops near my summer home in Nova Scotia. As I told some of you, I would look into sources of yarn suitable for hooking. I personally prefer the unusual yarns, many of which are more suited to hooking than knitting.
Here are some of the types of fibers that I used in my mat. First there is a bit of roving which is probably familiar to many of you. It looks like chunks of cotton candy. You simply pull off a bit and twist it until it can easily be pulled through the linen. The normal one or two ply smooth yarn can be doubled and pulled up. It is fun to combine colors when you do this or even different shades of one color. Multicolored heavier yarns are very effective in creating a design. I also like to use what I call "slubby" yarns, those that are uneven in texture with thin, skinny parts and heavy chunky parts. I have used polyester yarns from Michaels, homespun wools from local shops and our own members. Deanne Fitzpatrick of Hookingrugs.com sells packages of colored yarns. Each package contains a wide variety of yarns and roving. She advertises them in several colors but if you call her shop (toll free) she will make up a package of the color you wish. I have not had time to research many sources but I am sure those of you who are more tech savvy can find additional sources on line for some materials.
I have made several pillows using yarns and roving, sari silk and other material using a colored burlap as my background and leaving blanks so the burlap can show. I suggest you start with a pillow or small item and experiment with using yarns and textures. I use the same hook I use for my regular hooking and a backing of primitive linen which a bit wider mesh which makes pulling through the yarns much easier
If you are interested, I suggest you try hooking with yarns and textures. I will be happy to answer any questions you have and offer any suggestions that would be helpful. You can contact me at the next meeting or by email. Let the artist within experiment and blossom as you try something new to you!
Happy Thanksgiving everyone! How thankful I am to be a part of such a creative group of rug hooking artisans! Nina Seaman
From Nina's Notebook – Moving into Fall - October is here with its cooler days and nights; a great relief from the hot, muggy days of summer. Already a few of the trees and shrubs are showing their fall colors. Pumpkins, costumes, bright colored leaves are popping into our minds. The Hooked Rug Festival has filled us with beautiful images. The talent of our HCRAG rug hooking artisans is amazing! Add the talent of the other participating guilds and you have a rug show that has no equal. Although I am writing this before the show opens, I know from the last one that it will be spectacular.
What did you see in the show that speaks to you? Was it a geometric, a landscape, a memory rug, a celebration rug? I am sure each one of you has a favorite. Seeing a large rug show leaves many imprints in my brain. In some cases it is the color and how the artist has combined colors and perhaps included that bit of "poison" that gives the rug its WOW! factor. Sometimes it is the design. How did the artist combine and balance all those elements? What was edited out, or what needed to be eliminated? A memory rug often triggers memories of my own....do I want to create a new mat using that memory or will I file it away for future use. Aunt Virginia always urged us to fill our memory bank because that is what we will draw on as we age. Never mind that we now have thousands of images stored on our smart phones which we can never seem to find when we want them! What new techniques did you see that you might like to learn; proddy, embellishment, using yarn and sari silk, a new way of finishing a rug?
So we move forward into the fall. Happy that it is cooler and the wool not so warm on our hands, filled with the glow of autumn colors and images of new projects in our heads. The artist within each one of us is calling for backing, hooks, scissors, wool and time to sit down to hook!
Happy Hooking! Nina Seaman
September 2015 — From Nina's Notebook. September is for many of us the beginning of a new year. Summer is coming to an end. Labor Day, thoughtfully late this year, is just around the corner reminding us that it is time to go back to school, work or just resume the normal routines of the year. Those lazy, hazy days are now replaced with the mundane duties of life as we mentally replay those carefree times of summer.
Even those of us who are retired recognize a change in the rhythm of the days and weeks. As I sit in the dining room of my summer home in Nova Scotia, I can see the last roses of summer showing their pink and fuchsia petals. They had been missing for many years, eaten by the herd of deer that made their home on the island and regarded all the flowers, wild or in a garden as their personal salad bar. Now the deer are few and the roses have rebounded to my joy.
This summer the flowers, bushes and grasses have been lush and abundant. The snows of winter, which rivaled the snowfall of Boston, nourished and protected the dormant plants while battering most of the trees. My wild English garden never looked better and the clematis vine has more flowers than in any previous years.
This summer I have spent most of my hooking time working on a large piece for the Hooked Rug Festival as well as a show here. It was a challenge and now I am ready for new, smaller projects. One of the learnings that come from doing a large artistic piece was to allow the design to evolve. As I finished the first part, the hooking of the word Inspire, I let my mind riff on the shape of the letters and then created designs from that inspiration. As I finished working on the design inspired by the N, I was pondering what I could do with an E.
My usual routine for doing a mat is to create the design, draw it on the linen, color plan the entire rug and then hook the first loop. Of course I made changes as I went along, but they were usually minor. This time I was working out of my comfort zone, and I found I learned so much more and I came to trust my instinct and judgement. If I later thought it was wrong, out it came but it happened very rarely. For my next project, I will do the same. This time it is an adaptation of a watercolor of lichens and I will have fun experimenting with yarn, roving and sari silk as well as letting the piece evolve.
At the beginning of this "new year" I resolve to be less uptight and controlling about design and color and be led by the original inspiration for the mat.
Enjoy these last days of summer and resolve to let inspiration come from wherever and be translated in a beautiful piece of hooking. Let the color and texture be your guide to being the artist that lives within each one of us. Happy Hooking! Nina Seaman
June 2015 — Beginning of Summer. As I write this, it is Memorial Day weekend...the official beginning of summer. The weather promises to oblige with 80 degree temperatures and even a 90degree day thrown in to make it official.
June is the month of beginnings and endings. For some it is both; graduates of high school are ending their childhood and beginning their young adult life with college, jobs, military service...all with new challenges ahead. It is the month of weddings...new life together as a couple, establishing a household and taking on new responsibilities.
The summer holds out many possibilities. Perhaps a trip to a new unexplored place whether city or wilderness, there is adventure ahead. For me it is a return to my island house, with a promise of rest and renewal...although this year it will be more renewal than rest. Gathering with dear friends and family, old and new is the theme of the summer with lots of celebrating and feasting!
Summer is often a time for renewal of friendships or time with dear ones we have known for years. Family, friends, cottages by the sea or in the wilderness, trips to sight near or far, feasting, playing...that is summer in my definition.
My favorite mats are those created to honor a special summer memory. Mats with shells, sand, fish and ocean waters come to mind. Also ones that show that special cottage where generations of family gathered each summer. The mountains, trees and trails portrayed in other mats tell the story of a summer spent exploring the woods. One of the mats I remember chronicled an RV trip west to some of the national parks.
What are your special summer memories? Is it an event such as a graduation or wedding? Is it a special place by the sea or lake or in the woods? Perhaps it is a special person who greeted you each year as you arrived at your summer place. These stories are the basis for your design of a new mat. Don't crowd all the stories into one mat, make it a series or perhaps do one large mat and two small ones showing a special element you want to highlight. One summer I created a series of six 7"x10" pieces which I mounted on thin pieces of plywood. Each one was a flower or plant I saw on my daily walk to the beach through an area of wetlands.
Summer is a time to let your creative juices flow. A time of design, color planning and letting your imagination and creativity soar to new heights. Most of all it is time to be in touch with the artist that lives within each one of us.
Happy summer! Happy Hooking! See you at the Hooked Rug Festival in October! Nina Seaman
May 2015 — Is Spring Here Finally? Maybe it is May and not March that comes in like a lion and goes out like a lamb...at least this year! The chilly, blustery winds are blowing and the sun struggles to make more than a cameo appearance. Daffodils and tulips, flowering trees now appearing are a hint for those May flowers promised by the April showers.
Perhaps some of you have seen the movie, Woman in Gold which tells the story of the repatriation of the painting by Gustavo Klimt of Adele Bloch-Bauer. The painting now hangs in permanent exhibit at the Neue Galerie on 86th street in Manhattan. The portrait is a truly spectacular piece with great amounts of gold paint as well as the incredible complex abstract designs in her dress and in the background of the painting. Seeing it up close you get a grasp of the brushstrokes of the artist as well as the intricacy of the design.
Studying carefully the work of artists is a way for rug hookers to look at their own works. How did Klimt put together his abstract designs? How did he use color to differentiate the gold dress from the gold background? Where did he use swirls and circles and where did he use blocks and triangles? How did he use black to accent certain parts of the painting? How does the face emerge from the background and become the focal piece? These are just a few of the questions that came to mind as I studied this painting.
The next question is how can we use what we have learned in our own work. At this exhibit were also sketches the artist had made prior to his putting the oil on canvas. He experimented with various elements of the dress...the neckline, the skirt. Also, how to show the body of Adele standing or sitting. Making sketches helps you experiment with various ways of organizing your design. To all of you who say you can't draw, I say...you are not drawing to hang the drawing on the wall. You are sketching for a design that will be hooked. As you know, you changes things as you go along and allow the hooking to define the design, not the sketching.
Observing how an artist uses color is also helpful to our hooking. Note that even Woman In Gold has many shades of yellow from a bright glittery sunshine yellow to a deep autumn gold. Note also the length of the brushstrokes. This will help determine the length of the strip used as well as the shape or form.
I would urge you to look up various artists on line and study their works. The library has books by famous artists of various periods which you can use to find inspiration. One word of caution, find books that have a recent publication date as the digital photography of today is vastly superior and will give you the true color of the art work as opposed to older publications which often muddied the color.
Last but certainly not least, hop on the train or bus to Philadelphia or Manhattan and see some of the works up close. It is a great experience and you will find inspiration and joy for months to come. It will help you become an even greater rug hooking artisan than you already are! Happy Hooking! Nina
April 2015 — March is going out like a lamb, although a cold one. The first day of spring brought us snow but it disappeared the following day; a sign that perhaps spring is truly on its way. We are all longing for the bright sunshine, the first tips of green emerging from the earth, and the budding of the trees. Spring brings hope for the future and smiles to our faces. We all rejoice at the greening of the earth once again. The cycle of cold, snow, bare earth and the seemingly endless grey weather has been broken.
April brings us into the time of Easter and Passover, two holidays important to Christianity and Judaism. These two often overlap or coincide and both offering a chance for families to come together and celebrate. Chocolate bunnies, colored eggs, special foods are often part of the feast. As I look through magazines I see special recipes, elaborate table settings in pastel colors, ideas for projects that younger children can do, all with the eye on those get-togethers.
At this time of year, I think of special wall pieces that we could make to celebrate these holidays. Perhaps one which shows the Seder plate and the items included on it. Or perhaps a story rug telling about the Exodus. For Christians there are several variations on the cross. A story rug might show people celebrating the empty cross.
There is also a celebration of the season without reference to religious tradition. There is the bunny that is seen in many hookings...eating a carrot, with a funny outfit on, eating in the garden. The list is endless. Colored eggs are also a favorite and there is always the basket filled with chocolate eggs, colored eggs and whatever else you want to put in it. Frankly, I would like my basket filled with wool, yarn, sari silk and whatever else I could use for hooking.
Welcome, April with your warm days, budding trees, and sprouting flowers. You are a wonderful change in weather as well as bringing us a lift after a long, long winter. Let us gather our hooks, wool, and linen and hook a happy spring! We deserve it!
March 2015 — The old saying goes, "March comes in like a lion and goes out like a lamb."  Let's hope that it is true for this particular March.  The happy side of cold weather is, we get a lot of hooking done. The downside is, we are grumpy when it lasts too long. And it has!
March is a cruel month.  It comes with the promise of fair weather, since it is the beginning of spring but often dumps snow on the newly rising crocuses and forsythia blossoms.  I grew up in the Washington DC area and it seemed like the cherry blossoms were just out when we would have the last cold snap of the winter.  Either that or it would be so warm that the cherry blossoms were gone by the time the festival came around. However, this year we will hope for the best and spring will arrive mid March and stick around with warm weather, budding trees, rising tulips and all the other spring flowers.  The pastels of spring with the vivid tulips and soft green of the willows can inspire us all.
And then there is St. Patricks Day with its emerald green and golds of the Celtic themed decorations.  Even the snakes he drove out of Ireland, according to legend, are a challenge to hook. March is the time to be serious about hooking a mat for the show in October.  Last show was one of the best I have ever seen...and I have seen quite a few. This year will be even better I am sure.  It is also time to think about contributions to the boutique.   Last time I did several fish, this year I am doing boats and a fish.  Each of us has a favorite subject to hook, so use that to create something for the boutique.  Last Guild meeting also brought us some good ideas to pursue.  Check out the website...there is inspiration there also.
Use the last days (hopefully) of this cold weather to hook on your favorite projects as we all think ahead to Spring, warm weather, rising flowers and budding trees.
Happy hooking! Nina Seaman
February 2015 — Hearts and Flowers! — FEBRUARY is a welcome reprieve in these cold winter days. January was filled with taking down the remnants of the holidays, paying those bills of overindulgence, bemoaning the pounds gained and the puffy waist from lack of trips to the fitness center. Even some of the fun things seemed more like obligations and New Year's resolutions.
Welcome FEBRUARY with your bright color, your hearts and flowers, expressions of love. Images of fireplaces with couples snuggled together on the couch dance in our heads. Cupid and his love arrows seem to be everywhere. Candlelight, roses, a warm inviting meal with bubbly drinks in long stemmed glasses seem to call out from every ad in the magazines. Wars, hunger, poverty, cold are all forgotten in our romantic Hallmark image. Even St. Valentine has had a remake, rather than the man who visited the prisoners in jail, he is now the handsome suitor with the bouquet of red roses coming to call and to whisk us off to a romantic evening. All of this is a welcome relief from the harshness of the cold winter.
The color of the year is Marsala, an earthy terra cotta red. How appropriate! It combines the brightness of red with an undertone of earth colors. When I looked at the Pantone.com website I found a long explanation for their choice. I also found a series of color combinations which I highly recommend. Any of the choices they show would be useful for color planning a rug that incorporates the color of the year, Marsala. A pillow of bright flowers, a small mat of circles and squares, an abstract wall hanging with these colors come to mind as just a few of the ways you could use this color.
The second item I would recommend is Deanne Fitzpatrick's new book Simply Modern, Contemporary Designs for Hooked Rugs. It will be available through Amazon in April or you can order it directly from her website Hookingrugs.com. You will find it helpful whether you are a new hooker or one who has many rugs to your credit. Her writing is simple, direct and easy to follow.
I leave you with a quote from the cover...
"Make room for joy. Make room for playfulness. Make room for thankfulness. Make a little room between you and the mat for something larger than yourself...Make room for your spirit."
Happy hooking!
January 2015 — New Challenges — Happy New Year! Now that the holiday season has come and gone, it is time to think of new challenges for this year. Looking at the Rug Hooking Magazine for November-December, I saw several possible challenges.
 
• Learning to dye — I know that many of our members are already good at this but for the new members and those of us who are reluctant dyers, this is a good chance to master this art.  The step by step instructions seem easy to follow.  In addition, the talented dyers in HCRAG I am sure would be glad to share their expertise on what works best for them.
• Monochromatic rugs — Using one color with all its shades and tones is difficult. This article takes away much of the mystery and offers several alternatives.
• Changing your color palette — At a Spring Fling workshop last year, I finally got a real understanding of how to use the color wheel.  Most of my color planning I do by instinct but when in doubt I now have a reliable tool to use.  Experimenting with a different color scheme is challenging and exciting, a way to explore new possibilities for rug hooking.
• Introducing new fibers — I love using yarns of all sorts, sari ribbon, chiffon ribbon, silk, velvet, beads, the list goes on and on, every fabric is a new possibility.  I use these fibers for things that I will hang on the wall.  Some are suitable for putting in floor mats.  Doris Eaton has a rug on her dining room floor which is made from roving.  It has been there 30 years.  Adding something to the wool strips helps your piece gain texture and depth.
• New ways of finishing your rugs — The Guild is planning a program on finishing rugs.  My usual method for finishing is black binding because most of my rugs are in a primitive style.  However, this year I am committed to learning something new and one of my just finished mats will be whipped with chiffon ribbon.

December 2014 — Holiday Projects — The world seems to have turned to pale blue and silver. The trees are like pieces of sculpture, silvery limbs reaching into a sky filled with fluffy clouds and birds flying south. It is time to think of the holidays. The Mall is playing familiar songs of the season and we are making plans for decorating our houses. Out come familiar ornaments, candle sticks, wreaths, figures of Santa, the nativity, snow globes...whatever has been with us through the years. Each piece comes with its own story and memory of times past and a promise for the future.
For rug hookers, I know that many of you have mats that come out at this time of the year. For my family, it is one that was hooked to show how the nativity would look if it happened on Bell Island, our Nova Scotia home. Joseph is shown as a fisherman in traditional boots and flannel shirt, the baby is lying in a dory or small boat typical to the Island, and the local folks have come with gifts of apples, bread and fish. (In the HCRAG website gallery is a picture of the mat). In addition I have smaller mats of the wise men and even a partridge in a pear tree.
When Aunt Virginia was alive, I hooked a Santa mat for her each year. They hung in her house all year long because Christmas and Santa was her favorite time of the year. When she died, I distributed her collection among her children and grandchildren as a memory of her and the season.
So bring out your collection of seasonal mats and enjoy them. Take a look around and see what you would like to add to the collection. Do you need a Santa? Or do you need something to reflect your religious heritage? What about a simple Welcome Mat to greet visitors who come to your house? The possibilities are endless.
Enjoy the holidays; celebrate the joy of the season and the artist that lives within each one of us. Happy Hooking! Nina Seaman
r
November 2014 — Some Fine Day — November for me is the month of "drearies." Cold, grey, cloudy skies and drizzling rain is what comes to mind. The trees have lost their autumn glory and piles of soggy leaves fill the streets. The trees are like great sculptures of steel and I wonder if they will ever be green again. The occasional bright day still has only a pale blue sky unlike the radiance of summer. The Nova Scotia folk artist, Joe Norris, says "when the weather gets bad, I goes inside and paints me some fine day!"
The question for me is how do we get in the mind set of "some fine day?" I have been meeting with a small group of women at my church to grow spiritually by using art. We begin by reading several passages from the Bible. You could substitute poetry, essays, short stories, and biographies, whatever you wish. As you listen to the writing being read, copy on a piece of drawing paper whatever words strike you. Then begin doodling around the word or words. Let your mind go wherever it will. Other thoughts, words, images will emerge. Gradually a design or the basis for a design will come and you can go from there. Even if nothing coalesces at this time, save that piece of paper for future reference. Perhaps even keeping a journal of your doodles as well as other items such as photos, cards, articles that you have saved from other sources can be grist for hooking your own "some fine day."
Since November is the month of Thanksgiving, you could start with the word thanks. Try doodling around that word and think of all the images that come to mind. Think about creating some new design beyond the traditional turkey, pumpkins etc. Let that be a jumping off place for the creativity which lives within each of the Hunterdon County Rug Artisans.
Happy Thanksgiving and happy hooking! Nina
r
October 2014 — Fall Beauty — Can it be that October is here?  In Nova Scotia the leaves are beginning to turn.  The flaming reds, the burnt orange, harvest golds and that limey green color stand out against the background of the evergreens.  Reminds me of all the color planning we do for our mats!  There are the little lavender cosmos next to the tall golden rod with the rose hips peeking through the foliage. Fall is my favorite time of the year.  The air is crisp and invigorating. Walking through the woods with the leaves crunching underfoot fills me with joy.  The cranberries have appeared in the stores because the Canadians celebrate their Thanksgiving the second weekend of October. Yes, they have the same menu we do and it is also a time of homecoming.  Easier to travel in October than late November!
One of the local towns has a scarecrow festival the first weekend of October.  It has the usual scarecrows but also many satirizing political figures including the Royal family. There is a grave yard tour at dusk which combines local history with local folk lore. Pumpkins, mums and apples are all the rage at the local farmers market.  
Think of all the images for creating a fall mat!  Pumpkins hooked with large torn strips or with sari silk, yarn and wool strips...a runner for table or the hallway made with images of autumn leaves...chair pads with mums or big yellow sun flowers, the possibilities are endless. So take a long walk in the woods then take out your backing and your sharpie and create!
Celebrate this beautiful time of the year.
Happy Hooking! Nina
r
September 2014 — Can it be September already? Where has the summer gone? For me, a retired school teacher, September will always be the beginning of a new year. There is lots of talk on the local radio station about school supplies — new notebooks, back packs, crayons, pencils, construction paper, and glue — all those things you needed to start the year. That got me thinking about a new year of hooking. What new projects do I want to start? How about some new and different materials to work with like sari ribbon, silk chiffon, and different yarns? The possibilities are endless. This summer I did some sketches of scenes here on the island where I spend the summer. Now I need to develop those sketches and get them on the linen ready for hooking. It will be a long process for me but it is on the calendar. In the meantime there are some of the summer projects to finish and then there are the Christmas gifts...not too soon to be thinking about those! Yes, it is September and all those ideas, projects, and gifts are rattling around in my brain. In the meantime I will use these last few days of summer to sit back, enjoy the view and have a hook-in with my Nova Scotia friends. Happy hooking. Nina Seaman
r
June 2014 — Memory Mats June is busting out all over says the song. June is the month of many special days...just to name a few; Father's Day, Flag Day, wedding days, graduation days, last day of school, summer days, vacation days, and camp days. The list is long. Any one of these days can be an occasion for making a special mat to celebrate the "day".
This year it was my privilege to make a graduation rug for my granddaughter, Lydia, who is graduating from high school and will be attending college at Washington University in St. Louis this fall. She had attended school in Westfield, NJ from elementary through high school and also spent each summer in Nova Scotia. I started thinking about the design of this rug last summer. What do I include? My first thought was to get a list of her closest friends, her main activities in school, the special events of her school life, her trips with school, parents and grandparents, even the pets needed to be included. Also I needed to add her life at the summer camp she attended for several years. So I sought out help from her sister, Kate, and mom, Margo. Together we compiled a list and decided on the most important. (I wasn't going to make a room size carpet!). Next conundrum, how to put all of this together in an artistic and meaningful way?
With input from one of my hooking friends in Nova Scotia, we came up with the idea of the streams of life with intersecting lines and colors. The people, events, and travels would take the shape of leaves floating on those streams with their names on the leaves but the background being the color stream. The dogs were given the shape of bones with their names on them; the two rabbits were bunny ears. Friend's names were hooked in yellow, travels in green, and events in blue all against various shades of blue water and green grass. Sari ribbon in bright colors marked the outline of the streams of color.
By the beginning of September I had finished the task of putting the design on linen. The first item to go in was her name, larger than all others in a special shape, as well as 2014, the date of her graduation. Then I started doing the lettering. Oh, my, I do not like hooking letters but I got very good at it after doing this rug! In December came the news of her college acceptance and so in went the name under the 2014, to signify education was now moving to a new level. (Does this mean another graduation mat in four years?) Then came the process of putting in the streams of color. During the summer I had dyed several shades of green, blue, aqua and lavender to use for the background which represented the streams of her life.
Finally, at the end of March, I pulled the last loop; it was finished except for the binding. After binding it with black tape...my homage to Nova Scotia hooking and primitive style, my friend, Dee, used her "magic" iron to press it into shape.
Last week I presented it to Lydia and she was thrilled. Here is a memory of her school days in Westfield which she will have to recall those friends, events, and adventures.
I share this process with you to encourage each one of you to create those special memory mats. They are our legacy and heritage which we gift to our friends and family.
Have a very happy summer, fill your memory bank and then spend it designing and creating that special rug which will carry on for generations.
Happy hooking. Nina Seaman
r
May 2014 — Colors of May — What words and colors come to mind when you think of the month of May? For me, the color is green...in all shades and tones. There is the yellow green of the leaves newly budding from the trees, the emerald green of the grass, chartreuse of the willow, just to name a few of the many shades we encounter in the spring. For words, hope, faith, beauty, think, and create...come to my mind. Have you thought about creating a mat using a single word? Deanne Fitzpatrick has a few on her website which illustrate this idea. I particularly like the one based on the word, think.
I have been invited to be part of a hooking show in Nova Scotia this summer and the criteria include being large (40" minimum) and using multiple fibers. After much tinkering, thinking, and searching I came up with a design based on the concept of faith. I wanted it to be inclusive of several of the world religions so I settled on Christianity, Judaism and Islam with Tibetan Buddhism added to the mix. I spent some time researching major symbols of each faith, looking for some familiar symbols, but also some that are not so obvious but illustrate some of the major tenets of that religion. After choosing the theme, the next issue I dealt with was how do you tie it all together and do it in an artistic way? I decided that what they all have in common is the concept of water as the living stream of life. We as humans cannot live without water. In Judaism, you have the crossing of the Red Sea, or the exodus as a pivotal moment of history. For Christians the Sea of Galilee plays an important role, as well as the River Jordan. So I have a river as a primary design element to unite the various sections illustrating each faith.

I share with you my thinking and process of coming to a design for a mat using a single word. It has been long and sometimes arduous task, but I think when I am finished with the hooking, I will be pleased. It is my wish that this story will inspire you to think of a favorite word or color and go to work designing a mat. I know that with so many creative hookers in our Guild we will have many good mats to hang in our show next year.
Happy spring and Happy Hooking!
r
April 2014 — Spring is Here! April comes with the promise of spring, warm weather, bright cheerful flowers that have been hiding in the ground waiting for more sun light and warm rain falling from the sky. For most of us, it can't come soon enough. Although the winter has given us time for hooking, now we long for time to be outside and filling our minds and hearts with bright images. 
For me, yellow is the color I am longing to see.  Daffodils, forsythia, gold finches, bees coming to pollinate the budding flowers...yellow!  Easter brings to mind colored eggs and then breaking them open to find bright yellow yolks.  And then there is the sun, that bright orb in the sky that brings to mind circles and beams of light.  I should also mention its corollary, the moon which when it is full is a pale yellow which suffuses the evening sky.  Add to it the stars and planets whose intensity sometimes casts a shadow on the ground or sea. The yellow bananas, lemons, golden apples, grapefruit, pale grapes remind me of still-life and theorem paintings of colonial times.
This past week Deanne Fitzpatrick posted a picture on Facebook of a mat based on the color turquoise.  In the mat were various shades of that color as well as the compliments.  She included images of star fish, tropical fish, seaweed, crests of waves all done in an abstract style. (The website for Deanne Fitzpatrick is www.hookingrugs.com)
Whether the mat is abstract or realistic start with thinking about the predominate color you would like to use.  Then think of as many images as you can that have that color.  Out of that musing will come some ideas for a mat you want to design and hook.  Even if you aren't designing the mat, you can use the same process for color planning your next piece.  Happy spring...happy hooking! Nina Seaman
r
March 2014 — Enjoy March
The old saying, March comes in like a lion and goes out like a lamb, would be a wish come true after the endless winter we have had this year. Daffodils are the flower for the month of March and how we long to see them springing up with their bright cheerful colors, a sure sign that spring is in the air. If the weather isn't cooperating we can always look for those emerald green shamrocks that come with St. Patrick's Day. Mardi Gras comes this month and with it bright colors and jazz music which can bring a smile to our face and a lift to our steps.
March also celebrates International Women's Day. Think of some of the women who have influenced your life.  What are some of the special memories you have of those women?  What would translate into a mat or wall hanging? My grandmother loved to bake bread and pies which she would take to neighbors or shut-ins.  Some of my favorite memories are being in her kitchen watching her knead the dough and then the smell of the bread baking in the oven, filling the kitchen with the odor of yeast and love.
Do you have a favorite aunt, teacher, mentor, neighbor who was a special person in your life? What special activities did you share with them, gardening, hiking, traveling, reading a book. My daughter-in- law just finished a mat showing the former owner of their house in Nova Scotia sitting by his wood cook stove with a big fluffy cat in his lap. This mat will carry a special memory of that house and its owner on to the next generation.
Enjoy March with all its promises, warmer weather, daffodils, budding trees and fond memories of the wise women that we know and love.  And then...hook them into a memorable mat! Happy Hooking! Nina Seaman
r
February 2014 — February is the Month of RED! Everywhere I see hearts, Valentines, chocolates covered with red foil, cards declaring love in big red letters, even the Super Bowl is on the billboards with the numbers in red.  What a great color to cheer us up when the outside world has turned to white, but even then we give the snowman a big red scarf.  You can't escape the red. 
Right now I am working on a folk art rug with the title "The Sisterhood of the Bitten Tongue". How many times have you stopped yourself from saying the words you know will help, but the person hearing them would be offended or angry, so what do you do?  You bite your tongue! So I am exploring many shades of red from burgundy to orange and back again. There are many challenges to using red.  What do you use for a background? How many shades can you use? Do you want muted reds, over dyed reds, spot dyed reds? The possibilities are endless. One of my favorite red rugs is a hit or miss runner with many shades and compliments. Ask Tracey Fetzer about it.
Red makes you feel warm in a time of cold.  So think about a red mat for this time of year.  Don't be afraid to experiment. Valentine's Day is a great time to gift your sweeties with a small or large red rug with some of your favorite memories.  Or a simple heart and "I love you" will bring joy to the heart of one receiving it!
So happy hooking...and make it RED! Nina Seaman
r
January 2014 — Happy New Year!
Welcome to a year filled with mats, workshops, designs, and time with good friends doing our favorite thing, rug hooking!
Although I traditionally think of a new year beginning in September, (old school teacher habits never die) I am wrapping my head around some of the ideas for new rugs for 2014.  My major project is the rug for my granddaughter's graduation which will include names of friends, activities, travels and school names from her secondary years.  A space has been reserved for hooking in the initials or name of the university she will attend next fall. 
If you have young grandchildren or children, think about translating some of their drawings into a mat.  Their naive drawings and bright colors make wonderful mats. Or how about a favorite memory of one of the trips or activities you did together?  How about that new baby in the family...a mat with birth date and name are special and then there are always those favorite nursery rhymes to be adapted.  Some of the newer illustrated nursery rhyme books will give you some ideas for a new approach to familiar stories.
I also think of the new year as a time to learn some new approaches to rug hooking.  In 2013, it was incorporating more yarn, roving and other materials and becoming a true fiber artist. For 2014 I am going to concentrate on color and using different palates. I look forward to Spring Fling and the course with Norma Batistini.
I wish for you a year filled with good health, good friends, and a pile of wool, a good hook and hours to become the true rug artisan you are!
r
December 2013 — Holiday Hooking
This year Thanksgiving and Hanukkah, the Jewish Festival of Lights, come at the same time.  Imagine a bountiful table set with glowing candles and plates of our favorite foods of the season, family and friends all around. That is truly a happy holiday. 
Last year my family spent the holidays in a warm, sunny place with calm azure waters, swaying palm trees and balmy breezes.  This year we will pack our warmest coats for our walks on the beach with the frigid Atlantic blowing Arctic breezes our way.  We will huddle by the fireplace and drink hot tea and chocolate to stay warm.  Best of all, we will enjoy each other's company and give thanks for a good year and a wish for the coming one.  Whatever the weather, it is a happy holiday.
Hopefully there will be time to hook a few loops and to plan for some projects in the coming year.  There is still time for snowflakes and winter scenes as well as those memories of the palm trees; time for remembering the holidays past and the special ones who are no longer with us.
This year on All Saints Day, a friend gathered the pictures of her ancestors and introduced them to her young children.  She told them stories about those special people in her life.  Some of my most cherished mats are of my grandmother, Nanny, which I share with my grandchildren as I tell them stories about her.  Hopefully this mat will remind them of her when I am no longer able to tell them the stories.  Our hooked mats are the legacy which we leave for future generations along with the stories they tell.
Think about the special times you spend with your family and friends this holiday and make a mat to remember that occasion...a legacy for future generations.
Happy Holidays and good wishes for a joyous, happy new year filled with mats, hook-ins, and all the good things that come with being a rug artisan!  Nina Seaman
r
November 2013 — Thank You!
November is the month of Thanksgiving.  It reminds me that there are a number of people in my life who deserve a big thank you.  The first thank you is to all the people who made the rug show at the Mill possible.  Thank you to all the rug artisans who created wonderful works of art to display.   Thank you to all the people who worked so hard to pull it all together.  Thank you to all who worked behind the scenes to make it all go seamlessly and with few glitches.  It was a spectacular show and has gained recognition and kudos from many.  Thank you for a job well done.  These are just a few of my thanks.
A dear friend who died last year kept a journal during his final illness.  Each day he wrote some of things for which he was grateful.  Some days it was hard to find that one good thing but he did. I think this is a lesson also for the living.  For me it is also a lesson for rug hooking.  Who are the people, scenes, memories or whatever I want to remember and be thankful for?
As I was hooking last week I thought about my hands and how I use them; of course for hooking rugs, cooking, cleaning, praying, giving to others, hugging friends and family, expressing ideas...the list is long.  What about a folk art rug with themes of hearts and hands or perhaps a children or grandchildren rug of hands?  What about a rug of hands through the ages...young, middle aged and finally aged with all the spots, gnarls etc. that show a life well lived.
Think of Thanksgiving as an inspiration to hook those precious moments and memories.  We all have pumpkins, corn husks, turkey rugs which are beautiful, so on to something new and different.  I know that Karl must have a tavern rug showing a thanksgiving scene and surely with a clever name for the establishment.
Happy hooking and happy Thanksgiving.  Thank you rug artisans for your continuing inspiration!   Nina Seaman.
r
October 2013 — Thoughts of October October is upon us and with it the time of ghosts and goblins, pumpkins and scarecrows, Halloween witches, and children planning their costumes for the big parade.  My boys were never too interested in costumes, a sheet with cut out eyes or ragged jeans were fine for them.  My granddaughters spent the summer planning and sewing their costumes and had it all finished by Labor Day.  Halloween was a serious holiday!
For me October brings that wonderful panorama of color – oranges, reds, brilliant golden yellows, purples.  The changing leaves and shrubs, the browning of the grasses, that last gasp of the garden flowers are my inspiration for hooking.  The marsh where I walk each day has changed from many shades of bright green to a dusky brown.  Interspersed with the grasses are large stands of goldenrod sprinkled with small lavender asters which have a golden yellow center.  Add to that the orange red of the rose hips and the leavers which have turned to a rusty red.  The spider webs, heavy with dew and back lit by the sunshine, are beginning to disappear as are the giant spiders who weave with such elegance.  Each day the marsh changes and brings new delight to my eyes. I see the once green plants dying with a final splash of color and glory as if to say, "Remember me when I am simply a bit of brown dust on the marsh bed".
At the Spring Fling  Cyndy Duade taught the group how to hook an autumn leaf.  You first hook the stem and veins of the leaf and then using your brightest color you hook the tips of the leaves.  Next you put your darkest shades on the interior of the leaf and fill the rest with the medium shades going from darkest near the vein to the lightest near the tip.  It works well with a dip dyed piece of wool.  After mumbling and muttering about having to hook with a #4 cut … remember I am a primitive hooker working in #6 and #8 ... I found that it was a rewarding exercise and I was very pleased with my finished product.  I will also add that Cyndy was quite gracious about all my grumbling and were good friends by the end of the workshop!
I am looking forward to the Hooked Rug Festival at the Mill.  I know it will be an excellent show with the many talented hookers we have in HCRAG.  I feel so fortunate to be surrounded by one of the most creative and innovative groups I have known.  Enjoy these beautiful days, truly a feast for the eyes.  Happy Hooking!   Nina Seaman.
r
September 3013 — Think ahead to the fall
Now my new year is about what new hooking projects should I take on?  What new family events are happening this year?  Oh, yes, the oldest grandchild is graduating from high school.  How did that happen when it seems just yesterday she was toddling on the beach?  So I am deep in design mode.
This summer I concentrated on the flowers and plant life in the marsh where we walk every day.  Our walk at the local municipal park starts with a long stretch of walking on the beach with the lapping ocean at our feet and the view of drumlins where cows are grazing ahead of us. At the end of the beach walk is a long board walk which winds through a marsh filled with spartina grasses, wild flowers, rugosa roses and various other plants and shrubs.  The walk ends with a walk along a woodland path with pine trees, morning glories, and a variety of other flowers along the way.  One morning we were greeted with spider webs filling the marsh.  Small dew drops hung on the delicate fibers and all this was back lighted by the rays of the sun.  Stunning!
From this inspiration, I created several pillows using a variety of fibers – wool strips, yarn, roving, bits of sari silk, velvet, whatever came to hand.  I also hooked a series of 10 x 13 pieces which I mounted on thin wood paneling and will arrange as a collage.  When I see these pieces and pillows, I am reminded of our morning walks.  So think of some of the sights that moved you this summer and put them together in a mat or pillow.  This will be your memory bank for Summer 2013.
Summer for me is grist for the design mill for the rugs and other items I will hook this coming year. I am anxious for fall to come and to see the turning of the leaves and the beauty of that time of the year.  Fall will also bring the Rug Festival which will be a glorious display of the great talent in HCRAG.  I know we are all looking forward to that.
Think ahead to the fall and the time for new designs, new ideas for rug hooking and a new season of interesting programs at our Guild.  Happy Hooking! Nina Seaman
Content for class "dashed" Goe
June 2013 — Beginnings and Endings
June is a month of beginnings and endings.  Beginnings such as weddings, birthdays, summer and endings which could include graduations, the wilting of spring flowers, winter clothes, and for some of us hooking is put away until cooler weather!  Put the hooking away, I shout …Never!  Not until they pry my hook from my cold dead hands … or something like that.  As you can tell, I am passionate about hooking!
I am looking forward to hooking this summer.  I will be in Nova Scotia at my summer home, looking at the ocean from my hooking room, meeting with Canadian friends who inspire and mentor me, and even taking a workshop in hooking abstracts with one of my favorite teachers, Deanne Fitzpatrick. It will be a summer of learning, planning, designing, fellowship and preparation to come back to my New Jersey hooking friends with lots to share.
For some of you, there will be summer camps and times to hook with friends.  Whatever your plans, do include time to stop and take in the wonderful world of nature that is all around you.  If you have a garden, savor the colors of the plants as they grow and change.  Look at the shapes of the trees, the stalks of the flowers, where the flowers are on that blooming rose bush.  All these are sources of inspiration for a possible next rug.  I love to look at photographs on Facebook.  Last week, I saw a picture of yarn hanging on a clothes line and this became a small wall mat, using actual yarn, wool strips and sari ribbon.  Inspiration is everywhere!
I wish for you a summer filled with beginnings and happy endings.  As a wise person once said, "take time to smell the roses and capture the moment!"  See you in October with all our artistic mats on display at the Hooked Rug Festival at the Mill.  Happy Hooking!  Nina Seaman.
Content for class "dashed" Goe
May 2013 — The month of May is the month of "M" — May flowers, Mother's Day and Memorial Day.
For me May comes with dogwoods and azaleas.  Growing up in the suburbs of Washington, DC, cherry blossoms always grabbed your attention but after they had come and gone, the dogwoods and azaleas would be the stars and they lasted much longer.  Do you have a mat of your favorite May flowers?  Whether true replicas or padulas, flowers are fun to hook.
Several years ago I made a mat of my grandmother in her kitchen.  It is still one of my favorites and each time I see this mat it reminds me of her unconditional love for me and all her grandchildren.  Mother's Day is a time to think of a way to honor some of the women in our families; a beautiful mat is one way to do that.  Think of a scene from childhood, or a special memory and you have a great subject for a mat.
Memorial Day is a good excuse for that patriotic rug that has been rattling in your head.  Newfoundland soldiers who fought in World War I suffered very high casualties.  A group of rug artists memorialized them, in some cases using actual clothing from the period, in a series of mats showing the soldiers, the crosses in the graveyard, and the red poppies which came to symbolize that war. How can we honor the veterans of this century's wars?  A challenge for rug hookers now.
Happy hooking – even with summer coming there are lots of opportunities for starting new mats and revisiting old ideas!  Nina Seaman
r
April 2013 — Spring Flowers As I sit here thinking about April, it is snowing outside. I try to imagine the daffodils, crocus, early spring buds but all I see are leaden skies, brown earth and leafless trees. Where are those spring flowers, where are those birds chirping on the branches of the flowering trees? Alas, I will have to wait a while longer. Or perhaps I will go into my hooking room, pull down some yarns and wools the color of spring and have at it! Deanne Fitzpatrick says she often just starts pulling loops of various colors until inspiration comes and the mat takes on shape and form. Some examples of that can be seen on her website –www.hookingrugs.com.
Padulas are my favorite form of flowers. They can be any shape, form, size, color, whatever your frame of mind. You can create them to suit your every whim. Picture a large skinny vase filled with padulas of all your favorite spring colors. What about a basket filled to overflowing with those same flowers. One of my favorite spring items is a flowering tree. Done in a primitive style the blossoms can be a giant size almost larger than the tree. How about a field of golden or red poppies? In Texas there are red and blue bluebonnets which resemble small delphinium.
Spring cannot come soon enough to relieve the dreary days of winter. A note from a friend telling me of the birth of the twin lambs just born reminds me that spring too will be born again, but not just yet! Happy Hooking. Nina Seaman
r
March 2013 — March ..."it comes in like a lion and goes out like a lamb" says the old nursery rhyme. Images of roaring lions, blowing snow, north winds, wool scarves and mittens dance in my head. Maybe even a snowman although he seems to belong to December and January. March is often the cruelest month, alternating between the roaring lion and the sweet lamb cavorting across green fields with a necklace of flowers around its neck. There are the teasing warm days when you are sure it is time to get out the spring clothes and shed the dark wools of winter but the next day you are looking for the heavy wool sweater that you just put away.
What else happens in March? This year Easter comes on the last day of the month, and Passover in the last week. Google March holidays and you will find among other things, Texas Independence Day, St. Patrick's Day, International Women's Day and the day spring begins, March 20. So, lots of ideas for mats … quilts and blankets on the line blowing in the March winds, shamrocks and sweet spring flowers like violets and snow drops, lambs in the field or crowded up against the fence looking pensively, a majestic lion walking boldly in the jungle. Let you imagination roam through the images and see which one appeals to you and turn it into a spectacular mat which you can proudly display next fall at the rug show at the Mill. Happy hooking …and welcome spring on March 20th.
r
February 2013… a month of hearts and flowers, valentines and love, chocolates and kisses, so many subjects for beautiful mats! Several years ago we had a Valentines swap and what fun it was to see the many designs that were created to celebrate the day. The artist in all of us calls out to sit down and see how many ways we can create a design to celebrate this special holiday.
Time also to get busy on those hooking projects that we have stashed away saying "I'll do this in the winter". Winter has come and it is time. — Happy Hooking, Nina Seaman
r
January 2013 — Greetings from Recife, Brazil! As they say here, "Feliz 2013!" The New Year is a time for new beginnings as well as continuing the good from the old year. To all who suffered damage from Sandy, I wish you a speedy recovery and reconstruction. May the new year bring to all of us a consciousness about our changing climate and a vow to do our part to be more environmentally aware.
This is the year of our Hooked Rug Festival at the Mill and I hope each of you is planning a special piece for that exhibit. There is much talent in our Guild that the show will be remembered for years! I hope that everyone is already at work planning their mat for the show.
This year also brings many opportunities to grow our rug hooking talents. In April are the Spring Fling workshops with Cyndy Duade and Lucille Festa, in summer is our annual rug camp, and at each Guild meeting there is an opportunity to learn from the programs presented. We also learn from the many Show and Tell rugs.
And, so I encourage each and every one of you to pursue your art and to awaken the artist within you. Let 2013 be the year of rug hooking. Happy New Year and happy hooking. - Nina Seaman
r
December 2012 — Hurricane Sandy
Greetings from Nova Scotia where it is bright and sunny, but beginning to be very cold! Will be returning to sunny New Jersey at the end of the week, and then on to Brazil for a month with son and family. How is that for a change in the weather, which is what prompted this note for the notebook!
There is frost on the grass, a chill in the air; winter is beginning to sneak in the door. It is time for gloves, scarves, hats, boots and heavy coats. The weather has been on our minds for many weeks. Hurricane Sandy came with destructive surges of water, winds blowing down trees and power lines, forcing us to live like our ancestors did, without all the amenities of the 21st century. Signs of the powerful storm are still around us. Our children and grandchildren will tell stories of this storm to their offspring many years from now.
Our hearts are warmed by the outpouring of good will from people near and far. Spontaneous acts of kindness and generosity are in the news each day. Is there a hooked mat in all of this? How would you document some of your own experiences of Hurricane Sandy and its aftermath? I attended a Green Mountain Workshop with Rae Harrell this past month and from it came a mat of Hurricane Sandy and its affect on me. It is an abstract mat which captures the emotions and feelings of the time.
The advent of winter also brings us to the Christmas season with mats of Santa, nativity scenes and all the other trimmings of the season. A friend gifted me with a small hooked mat of a pig she had donated through Heifer Fund in my name. This is the season when we look forward to a new year and plan for mats to be hooked to celebrate the events of the year past as well as ideas for new ones. My wish for all of you is a season filled with joy, love and happiness.
May the New Year bring recovery for all those whose lives were upended by Hurricane Sandy. And most of all, I wish you a new year filled with many hours of happy hooking! Nina
r
November 2012 — Give Thanks – The leaves are falling, the pumpkins are collapsing on the doorstep, the Halloween costumes are back in the box, the days seem long and dreary. November has come.
The Nova Scotia folk artist, Joe Norris, says, "When the weather turns bad, I goes inside and paints me some fine day!" With that thought, visions of turkeys, friends and loved ones gathered around the table, football games and bonfires come into my head. Thanksgiving is on the way! What a fine day that is, regardless of what the weather is outside, inside is warm and joyous.
So what new mats can we create to celebrate? The first part of the word is thanks. Last year I created a long runner for my table with the word thanks in four languages...danke (German), gracias (Spanish), merci (French) and thanks (English). Using your own heritage, you can create a mat incorporating your word or words for thanks.
One year I traced the hand prints of the people at the table and used them as a pattern. This is particularly fun when you have young grandchildren. A pair of folded hands at prayer, hands making the pie that you will eat for dessert, a workman's hands, the hands of a young couple newly wed...all these are possible subjects for a mat of thanks for the community of friends and family around you.
And the second part of the word is giving. What are some mats or pieces that you could give as gifts? The obvious ones are pumpkins, turkeys, and farm scenes. But what about the out of the ordinary, perhaps a scene from a special time that you have spent with a family member, such as a birthday party? Can you picture that cake? What about that historical place you visited? How about your house or your dog, or something particularly meaningful to you?
Many of us spend lots of time doing for others, how about something special for ourselves...a way of giving thanks for the special moments in our life which we can share with others. Thanks for Thanksgiving and the reminder of the great bounty with all share.
Happy Hooking! And happy Thanksgiving! Nina Seaman
r
October 2012 — Christmas Items Each summer for the past 15 years I have created a Santa rug for Aunt Virginia, the matriarch of our family and an artist in her own right, doing braided rugs and stained glass lamps until her death at age 99 this past May. This summer I was at a loss. What would take the place of her Santa rug? So I began hooking a bunch of small Christmas items — a wreath which is wired so it can be hung, a small table pad which says JOY, a Santa face and a few ornaments for a tree. All of this helped ease the sorrow as well as providing me with some new Christmas items for my house.

It is never too early to begin thinking about Christmas items. What about a stocking for your new grand baby, or the older one you haven't made for yet? How about a Christmas runner for the table? Some hooked and stuffed Santas? A wall hanging of that special place or scene you have been meaning to do? A small seat pad or mat for the threshold?

It is always fun to take out the familiar Christmas pieces but it also great to have a few new ones for this year. So take out your red and green wools, plus all those plaids and tweeds and let your imagination and creativity loose! Create beauty everyday and for each time and season. Happy Hooking! — Nina Seaman
r
September 2012 — Vacation Memories September for me is the beginning of the year. I am a former school teacher and when Labor Day came it was time to go back to work after a summer filled with friends and family, travel adventures, and time at our summer house in Nova Scotia.


Our dear Aunt Virginia often said to us, "Fill your memory bank because when you are unable to travel and do all the things you love, you will have plenty to remember".
When I look around my house I see the mats I made to remind me of a trip we had taken, the view from our window in Nova Scotia, the fishing boats, a gorgeous sunrise or sunset. It takes me right down memory lane.
My favorite rug in this year's show at the La Have Islands Marine Museum is a long runner (24 x 102) made by Myra Barss of West Dublin, Nova Scotia. It is done in a hit or miss style with scenes of everyday sights from the window of her house mixed in. An osprey, blue jay, squirrel, a sunset are hooked into some of the blocks. As you walk down the hall you would be reminded to look out the window and enjoy the sights of the day.
This summer I hooked a rug to be presented to our nephew as a wedding present. I hope that it will be part of the memory bank of his special day and that it will remind him of the love and commitment he and his wife made on that day.
So think of those special memories from this summer and put them into a design for a rug. It will bring you such joy and pleasure each time you see it and will help to preserve those times which will fade a bit down the years. Happy fill your memory bank month!
"Create beauty everyday" Deanne Fitzpatrick says. To which I add..."yes, indeed!"
Nina Seaman
r
June 2012 — Celebrations! June is a month of special occasions — weddings, graduations, and Flag Day! All of this sets my mind in action. What mat can I create to celebrate those times?
For a wedding, it is fairly simple, something that is particular to that bride and groom. One couple I know went canoeing on the lake in front of the cottage where they were wed on the morning of the ceremony! Add the names and date and there is your rug.
Graduation brings to mind caps and gowns and all the achievements of the graduate.
Again, name and date are important as well as the location.
Flag Day is perhaps the easiest of all the occasions. Think stars and stripes! Ask Weezie about her flag rugs, she has done quite a few. A rug of just stars can be stunning. You can use any color as well as the traditional red, white and blue.
Summer is a time to explore new ideas and designs, as well as new palettes and embellishments. I wish you a joyous summer filled with creative, stimulating and challenging times as well as times of rest and refreshment. Happy Hooking! Nina Seaman.
r
May 2012 — Create Beauty Everyday — On Deanne Fitzpatrick's website is the statement "Create beauty everyday. Throw a pebble in the creativity pool". This is my goal each month... throwing a pebble in the creativity pool. The round robin and the show and tell at the last HCRAG meeting reminded me that we have many creative members of our Guild. The proddy demo, the crewel stitches, spinning yarn, every demo taught us something new.
May is the season of flowers and brings to mind the many ways we can incorporate flowers into our hooking. This week I saw a pillow with one beautifully shaded rose. Shading is an art and one that takes some time to learn to do properly but is most effective in creating a realistic flower. Or you can go the other way and create a padula -- a primitive, imaginary flower to be used in an arrangement placed in a straw basket or put to use in a border.
Wide borders which incorporate twining vines, leaves and flowers can enhance a pictorial or flower mat. One demo in the round robin taught us how to make flowers using strips of yarn. We could also proddy them into large bouquets of different flowers using various colors of wool. I have just finished a large pictorial and used small bits of roving and yarn to create wild flowers growing randomly on the paths and meadows of the scene.
Let's not forget the trees with their fresh blooms of pink and white and the yellow green of the willows.
So think flowers in May, and let the artist within create a mat which celebrates this month!
Happy Hooking! Nina
r
April 2012 — The Month of April Today the wind is blowing and blowing, daffodils are tossing their heads, branches are crashing to the ground, and blossoms flying off the trees. March is going out like a lion. What is to follow, according to the saying?
April showers are on their way. An umbrella seems an appropriate symbol for the month. Can you imagine a geometric with various shades of umbrellas? Perhaps one with unfolded umbrellas in all their spring shades or another possibility one with furled umbrellas with interesting handles. Spring colors as well as the black and navy blue of traditional umbrellas.
April brings to mind Easter eggs, pastel colors and bright green grass. You could combine all those ideas in a mat of Easter eggs. Think of those lovely Slavic eggs with their intricate designs, some of which could translate to a hooked egg. And what about that Easter bunny, there are so many delightful patterns of bunnies, some holding baskets of brightly colored eggs, or simply standing with a carrot against a meadow of green grass. Meadows also bring to mind sheep and lambs, also symbols of Easter.
Spring has come and April is a month to think about a mat which celebrates its coming. For me that would include images of flowers such as daffodils and tulips (although they appeared this year in March) and flowering trees such as dogwoods and shrubs like rhododendron and azaleas.
Walking outside during these early spring days can be a source of inspiration for a mat to celebrate this season. Walk with all your senses; smelling the flowers, feeling the warm air, and leaving your mind open to all the possibilities of new designs that come to you from nature. The artist in you is awakening just like the earth is responding to the new season. Happy Hooking! Nina
r
March 2012 — Spring Rugs March is coming! Will it come in like a lamb or a lion? What about all those yellow crocus that are poking their shoots out of the ground as well as daffodils and tulips, will they be greeted with sun or snow? It often happened that when our forsythia had reached its full bloom, it suffered the blows of a howling late March or early April snow storm.
And what about those little lambs frolicking about on the new grass enjoying the warm sun? Lions and lambs bring to mind a beautiful hooking by Margaret Brightbill called The Peaceable Kingdom. The artist, Edward Hicks, had created a series of paintings celebrating William Penn and his vision for Penns Woods where people would live in harmony with each other as well as with the natural world. Included in those images was one showing a lamb cradled in the paws of a lion. Margaret had used images from those paintings as well as adding some of her own touches. In many ways this hooking reflected her life and the quiet way she had of creating harmony in her work as well as her relationships. I will miss Margaret as will many members of HCRAG. She has left us a beautiful legacy of hooked pieces as well as a vision for creating mats that reflect those values which mean the most to us.
I encourage you to call forth your inner artist, your visions for March and to create that mat that has been rattling around in your head. The cold days of March are meant for hooking! Nina Seaman
r
February 2012 — Birthday Rugs
The month of February brings many images to mind — hearts and flowers, George Washington in his boat crossing the Delaware, Abe Lincoln in his stovepipe hat, snowy, blustery days, little newborn lambs, wobblyon their feet and bleating for Mom -- all good subjects for a mat.
In my family, February is the month of birthdays. I have the usual scramble for what to get for their birthday and on occasion one or more members will be gifted with a new mat. For my grandchildren, there was a birth mat complete with birth date either in the border or incorporated in the design. For one, it was a Noah's ark with his name on the bow of the ark, for another it was the Humpty Dumpty. I based the designs on drawings from a children's book because the lines of the images were simple and direct. The illustrations in children's books can often help you create a unique design for a special rug.
This week I saw two rugs which had the name of the child written in very bold letters across the center of the mat. On one rug, the border had a derivation of the name in several languages as well as a Latin phrase which used the name. On the other rug, the name was in a bold color with a neutral background and a large star. Simple, but striking and both mats would be appropriate for a child or an adult. A mat which I hooked for a friend's birthday shows an autumn tree with brightly colored leaves in oranges, golds and reds to remind her that even though we are in our "autumn years" we can still be bright and colorful.
A 70th birthday mat I saw being hooked, has a large heart with 70 in the center with bright leaves and flowers around it, as well as the name of the recipient. It is a small mat, one which can easily be hung in a special spot.
February with its snowy, blustery days is the perfect time for hooking. So gather up your strips, backing, frames and hooks and hook that mat that has been rattling around in your head waiting for the time when you can spend a few hours being the artist that you are!
Happy Hooking! Nina Seaman
r
January 2012 — Hooking Goals
Happy New Year! Welcome to a new year of hooking! New Year is a time when we are supposed to make resolutions about all the new habits which we will acquire in the coming year. I don't know about you, but my resolutions seem to last less than that proverbial New York minute. It just doesn't work for me. So instead of resolutions, I am going to suggest some goals which we as rug artisans might adopt for the New Year.
Honor our inner artist. There is within each of us an artist longing to be free. Some of us have made that discovery, but it is there for everyone.
Try something new....a new stitch, a different color palette, a workshop with a different teacher, whatever stretches your talents.
Either finish that piece that has been hanging around forever, or throw it out! You will be surprised how liberating that is.
Make your hooking space as attractive and inviting as you can. This will entice you to want to spend more time there and you will be amazed at how much you accomplish.
Give yourself permission to spend more time designing, hooking, finishing. No one on their deathbed says I wish I spent more time doing housework. Let your hooking be your greatest legacy.
Happy Hooking! Nina Seaman
re
December 2011 — Hooking for the Holidays
A few weeks ago I was at a friend's house and she had just baked homemade apple muffins. The smell of those muffins wafted through the house and brought back wonderful memories of my grandmother baking in her kitchen. Several years ago I honored my grandmother by hooking a piece that showed her in that kitchen. Last year I made another piece showing the two of us walking to church on a snowy Christmas Eve.
December and the holidays bring back many memories of days gone by as well as visions of holidays to come. Each one of us has special memories which can be hooked into a mat. Just a few ideas to get you started —
What about that unexpected gift that you received, like the doll or other toy you thought was off the must get list?
How about a Christmas stocking for the new grandchild? The look of the starry night with a full moon shining on the new snow outside a cozy house?
A special ornament you received or even a small mat or table runner of ornaments?
Sleds, snowflakes, pine trees, Santas, The 12 days of Christmas, all are grist for a special hooked piece to keep for yourself or give as a gift.
So sort through your memory bank, tune into your inner artist and create a memorable piece of hooked art for the holidays!

Happy holidays, and happy hooking! Nina Seaman
dashed
November 2011 — Thoughts on Thanksgiving
I am one of the lucky people who celebrates two Thanksgivings; one in Canada and one in the US. Canadian Thanksgiving is the same weekend as the Columbus Day holiday in the US. For both countries it is a time of homecoming and gathering around the dining table filled with turkey, dressing, mashed potatoes, gravy, cranberry sauce, pumpkin pie; all the traditional foods of the holiday. Every year I am filled with thanks that I have the opportunity to celebrate in two countries.
On Deanne Fitzpatrick's blog www.hookingrugs.com I found two beautiful examples of hooked pieces that simply said thanks. One was filled with hit or miss circles surrounding the word Thanks which was outlined with one color and hooked in another on neutral background. The second piece showed a woman in a flowered dress with the word Thanks written underneath in a wide border. Both these examples set my mind whirling on all the possibilities for a Thanks rug. What about a long table runner with the word thanks written several times and a twisting vine or padula flowered wide border with a spot dyed background? Pumpkins, leaves in fall colors, corn stalks and barns, colorful turkeys with their tails unfolded are also possibilities to include in a thanks mat.
Think of all the people, events, and places that you are thankful for and then choose one for a special thanks mat. Each time you see the mat it will remind you that there are many things for which to be thankful.
For me, I am especially thankful for the members of HCRAG and their devotion to the art of rug hooking.

Happy Thanksgiving and Happy Hooking!
Nina Seaman
dashed

October 2011 — Orange
October is here and visions of pumpkins, witches, goblins and Halloween are dancing in my head. A recent article in Rug Hooking Magazine on dying for one dozen oranges set me to thinking about how to use that very strong color in a mat. Here are some of the ideas to set you thinking about creating an orange color mat.
One of my favorite mats is an old Lunenburg county hit or miss mat. It has a solid edge or frame and then hit or miss of various shades for the center — very simple, but very effective. Using all 12 shades of orange would make a bright mat for the kitchen or hallway. October is also the time for leaves to turn various shades of orange and red, a mat of leaves of various shapes and sizes would be most attractive. And what about baskets of padulas in shades of orange? Or even baskets of oranges or pears, or simply squares with pears or oranges against complimentary backgrounds.
One of my Nova Scotia hooking groups has issued a challenge to create a piece 16"x16" titled "I see the world in shades of...." What if the color was orange? Happy Hooking! Nina Seaman
dashed

September 2011 — The End of Summer Greetings from Nova Scotia! When I was teaching, September was the cruelest month. It meant trading shorts and tee shirts for skirts and panty hose. Being retired, September now means that I can stay in Nova Scotia, my summer home, for one more month. It means sitting on my deck and enjoying warm days and cool nights.
I begin to watch for the first signs of fall with turning leaves and the coloring of the rose hips. One of the hooking groups to which I belong is planning an exhibit at our island museum next year. In addition to individual pieces we are also planning an exhibit of pieces, size 16 x16 on the theme "I see the world in shades of…….". Each hooker is free to choose the color of their choice and create a piece using many shades of that particular color.
Right now I am leaning toward the shade of green. Perhaps a small house of celery green with dark green roof set in a field with many shades of green with dark trees in the background. Then there is blue with sea and sky. A blue boat sailing on the sea... What color would you choose, and what is the scene that you would create?
Happy Hooking! Nina
dashed

June 2011—Rugs for New Babies— A friend recently announced the happy news that her daughter is expecting a baby in September. This news set me to thinking about birth rugs.
For each of my four grandchildren I created a rug with their full name and birth date. For my first grandchild, her mother actually designed the rug using the motifs from the nursery rhyme, "...and the dish ran away with the spoon". The full name of the baby and the birth date were incorporated in the border. The second grandchild had the theme of Noah's ark.
If you are anticipating a new member of the family, talk to the parents and see what themes or ideas they have for the child's room. This will give you the clues you need to create that very special rug. Also pay attention to the colors that are used in the mat. I stay away from the cliché colors of blue and pink and create a color palette that will catch the eye of the baby as well as the parents. I have also created small wall hangings with the child's name and birth date. You can incorporate designs that reflect that child's heritage, such as a shamrock if they are Irish or perhaps a family pet, anything that is particular to the child.
There is a special joy that comes with hooking a birth rug for that new member of the family and it is a treasure that the child will have throughout their life.
Happy Hooking! Nina
dashed

May 2011—Wedding Rugs—All eyes are on London and the royal wedding...what will the dress look like, what will the Queen be wearing and what about all those English hats? This leads me to thoughts of wedding rugs. Do you know of someone who is getting married this year; what nicer gift than a hooked rug made especially for the couple.
When planning a wedding rug, many images come to mind...hearts, flowers, golden rings, sunrises and more. The secret is to choose the images that are meaningful to the wedding couple and the most important part, to edit those choices. Designs for wedding rugs are best when they include only those elements which are unique to the couple. For example, a friend made a rug which featured the bride and groom...he in black suit with top hat and she in white dress and veil...shown from the rear dancing off into a moonlit night. The border contained words of a poem which was special to this couple. The rug became a prized possession.
If the wedding is in a special place, a beach front or forest retreat, work that into the design. A mat which I did for a 50th anniversary featured odd shaped blocks with mementos from their life such as their VW bus which they had for many years and their sail boat which they used every summer.
German fraktur prints which were made for weddings often used brightly colored birds to represent the couple. The birds could be shown with several different types of flowers in the border or background. Borders on wedding rugs can be used for the names of the couple plus the date of the wedding. So think about that special wedding or anniversary and design a rug to commemorate the occasion. Happy Hooking!
dashed

April 2011 — Water Themes — April showers, they bring May flowers says the song. Those wonderful light, gossamer showers of April bring to mind water....and how do you hook water? Many of my mats have ocean water in them, along with fishing boats and sailboats. I like to do my ocean water with yarn. I have found some dyed yarns which have a variety of blues in them, from a bright cobalt blue to a turquoise. When hooked it seems as if the water is moving. In the background of the water, where the ocean meets the sky I put a darker blue yarn. Sometimes I will hook some white/off white crinkled yarn to show the edges of waves or where the sea breaks on the rocky shore. I have also done a waterfall using strands of the crinkled yarn to show the cascading water as well as lots of foam at the bottom. For rivers, I like three or four shades of blue with the lighter shades at center and darker at the farthest bank. Streams can be done in lighter shades of blue and gray to show how shallow the water is. Because water is always moving, hook in curving rather than straight lines. The rocky shores can be hooked in various black, white and gray tweeds in blocky shapes. A bit of foam coming over the edge adds the illusion of crashing waves.
Happy Hooking!
dashed

March 2011—Irish Themes — Will March come in like a lion and leave like a lamb or will it be in like a lamb and out like a lion?
Flowers, early spring, blustery winds, four leaf clovers, St. Patrick, snakes....these are a few of the images that come to my mind when I think of March. Any of these ideas would make a great mat! What about a tavern sign with St. Patrick and shamrocks inviting you in for a "Pint"? When I think of Ireland, I see a hill with sheep grazing, gently led by a shepherd in a tweed coat smoking a pipe, and followed by a border collie.
Staying with Ireland, perhaps a small cottage with thatched roof surrounded by blooming flowers could be a subject for hooking. Along with St. Patrick, I also think of St. Columba who was sent from Ireland to Scotland in a small leather boat to bring Christianity to the Celts. And speaking of Celts, next Guild meeting Jana Laidlaw will introduce us to Celtic designs. There are several books out which have Celtic designs suitable for reproducing and copying on to mats. And then of course, there are those lions and lambs! There are many designs for lions, from realistic to folk art waiting to be hooked. The lambs have plenty of patterns too!
So while you are waiting for the blustery winds of March to die down, think about a March mat to hook while watching March madness.... another subject for a mat! Happy Hooking!
dashed

February 2011— Hearts — Happy Valentine's Day! February is the month of love and gives us rug hookers lots of good ideas for new mats, large or small. Last year the Guild had an exchange of heart mats and each one was delightful as well as unique.
One of my favorite old primitive patterns is the hearts and hands designs. It shows a human hand and a heart shape and can be hooked in a variety of ways. Several years ago we spent a Valentine's weekend with dear friends and decided that we would make a mat to commemorate the occasion.
I asked each person to trace their right hand. Then they were to draw a heart. Together we created a pattern that showed the four hands joined together with a circle to symbolize the bond of friendship we had. In the four corners we had the hearts, which were various sizes and configurations.
I asked each person to choose from the batch of wool I had put together the color or type of wool that they would like to have hooked to represent their heart. I used flesh colors for the hand and reds of various shades and patterns for the hearts. One person chose a gold and black plaid which resembled his college colors for his heart and I used some of that material for the ring on the hand of his wife. The background was antique black, an army khaki blanket which had been over-dyed with black and brown. It turned out to be a favorite mat of all four of us.
Now we trade the mat back and forth...each one of us having it for a period of time. It is a real celebration of a friendship that has lasted many, many years. Happy Hooking! Nina Seaman
dashed

January 2011—New Year's Resolutions for Hookers — Happy New Year! January is the month of beginnings as well as resolutions to begin those things which we have put off until "after the holidays."
What new projects have you planned for the New Year?
Do you want to learn a new technique for hooking? Perhaps you have been thinking about hooking with yarn, roving or other alternative materials. Now is the time to find someone who knows how to do that and will take a few minutes to teach you how.
Do you have an unfinished mat that you have been meaning to finish? Now is the time to drag it out of the closet and figure out if you need to make some changes so that you will be enthusiastic about finishing it.
Do you need to reorganize your hooking room or space? Sometimes just shifting around a few items will make your work area more appealing.
Is it time to "download" one of the many ideas you have for a new mat and put it on the linen? There is something so exciting about starting a new mat. Those first loops are the adrenaline that gets us going.
On with the New Year and the new mats that will be created.
Happy Hooking! Nina Seaman
dashed

December 2010 — Christmas Rugs — Happy Holidays to all! The matriarch of our family is Aunt Virginia, now age 98 and still going strong. Her favorite season is Christmas; anything Santa captures her attention from the hip hop Santa figure to the classic Coca Cola image, she loves it all.
Aunt Virginia is a braider of rugs and a shell and stain glass lamp maker. Each Christmas we are gifted with one of her creations. When I began to hook, one of my first mats was a Santa for Aunt Virginia. She was delighted....and so began a family tradition. Each year I search for a new presentation for Santa. This year I decided to go back to the original and have hooked Saint Nicholas in his Bishop's hat holding his crozier. In the background is the sea and a sailing ship because he is also the patron saint of sailors.
This mat will join the other Santas in the collection of Aunt Virginia. Hooking mats for the Christmas season - or any other season- is a way of creating a tradition for your family. What joy it brings to the hooker and to the recipient of the mat!
Happy Hooking...whatever the season! Nina Seaman
dashed

November 2010 — Small Framed Hooked pieces: This fall I am off to visit friends in California...what to take as a house gift? Since I am flying, a large gift, or taking my hooking along to create something special on the spot is out of the question. Last spring Michael's was selling small, wooden picture frames, suitable for a 4 x 6 picture for $1 each. I picked up about 10 of them thinking that they would make perfect frames for a small hooked piece, and indeed they have been!
I place the picture frame on the linen and draw around it, which tells me how large the hooked piece will be. After I have finished the hooking, I allow about 2 inches all around and cut away the excess backing. After steaming the hooked piece, I carefully staple it to the frame, mitering the corners. Then I take a piece of art paper, write the name of the piece, whom it is for, my name and the date and cut it to cover the back of the frame. Using double faced tape, I apply the art paper to the back of the frame, making a very neat cover for the staples, backing and hooking.
Subject matter for the small hooking... whatever comes to mind! I have done a small vase of flowers, using roving for the blossoms. Christmas season I will do Santas and primitive Christmas trees. I also like to hook two or three fish and then use various plaids to hook them as well as using a blue yarn for background. Colored yarns will also give you a very bright tropical fish.
Voila ... a small hooked piece for a friend or family member!
Happy Hooking – Nina Seaman
dashed

September 2010 — Rug Hooking for Fund Raising — It has been a grand summer for rug hooking in my part of Nova Scotia. This summer there were two shows, one at the La Have Islands Marine Museum which featured rugs from the Square Zebras, a group of 12 women dedicated to making rug hooking an art form as well as a craft. The second one at the Rossignol Center in Liverpool, Nova Scotia featured more traditional hooking. Both were well received and attended.
The La Have Marine Museum sold raffle tickets on a mat constructed by the Square Zebras and made over $2,000 to be used to maintain the museum. Right now I am working on a mat which I will donate to the Autism Society in Baltimore in honor of my grandson, Will, who has autism. There are numerous charities which have auctions and special fund raising events. As a rug hooker, this is an opportunity to contribute to a charity of your choice as well as have the enjoyment of creating a piece of art. I find it is also a way of introducing rug hooking to a larger audience. I am amazed that some people still do not know about hooking and the beauty and joy of this art form.
Think about a special group that captures your interest, and see if a hooked rug would fit in with their fund raising plans. Happy Hooking!
dashed

June 2010 — Getting Inspiration — One of the questions I am sometimes asked is where do you get your inspirations for rugs? When it is time to think about a new mat, I am sure we have all faced that question. Perhaps we have lots of ideas in our heads, but which one gets the nod to become a mat. One thing I have found useful is to keep a journal of ideas. My journal is a large notebook in which I glue pictures, record my thoughts, paste in articles from magazines, doodle on the pages, whatever might be helpful in planning a new piece. I have also found that blogs about hooking can be helpful.
One of the Nova Scotia teachers who has been a great mentor to me is Deanne Fitzpatrick. She has a website www.hookingrugs.com which has a gallery of her work as well as a blog. This morning I went out of my house and heard the birds tweeting and singing, and the smell of fresh earth and grass was in the air. The change of seasons brings back many memories and images which can be translated into a design for a mat. Last but certainly not least are family memories. My grandmother, Nanny as we called her, was an important person in my life. One of my fondest recollections of her is in the kitchen, baking bread. And so I hooked her kneading bread at her kitchen table and labeled it, "Give us this day."

The show and tell at HCRAG meetings is my favorite part. Seeing the creativity and passion in those mats often sets off new ideas which work their way into a fresh design. Visiting a museum, seeing a rug exhibit, looking at a new magazine, these are all sources we can use. There are many places to look for inspiration, these are just a few.
Happy Hooking – See you in the fall!
dashed

May 2010— About "Nina's Notebook"— When asked to take over Joyce Comb's column on dyeing, I hesitated. Dyeing is still a mysterious process to me, although Joyce has helped to make it less so. We agreed to call the column "From Nina's Notebook".

Let me introduce myself. I am Nina Seaman, a two year member of HCRAG and a rug hooker of about 20 years.

I spend half the year in Plainsboro, NJ and the other half on Bells Island, Nova Scotia. I am a member also of the Rug Hooking Guild of Nova Scotia. I am a primitive hooker, preferring 6, 8 and even 10 cuts done in a folk art style.

I feel very passionate about rug hooking in all its forms, mats, purses, wall hangings...whatever width of strip or style of hooking, I love it all. I feel privileged to belong to two guilds that honor and celebrate the art of rug hooking. In this column I will write about rug hooking topics ranging from the serious to the trivial, and everywhere in between. If you have any suggestions for a topic, I welcome it.
dashed

From Joyce's Dye Pot
May, 2010—As Joyce Combs assumes her new role as co-president, she will be relinquishing her "Dye Pot" column. We thank her for contributing to The Loop in the past. Here is her last article.
Natural Dyes: Using natural dyes produced from flowers, herbs, nut husks and other plants is fun and consistent with the early origins of rug hooking. Onion skins and flowers are just two natural sources for dyes. Collect onion skins or day lilies. Soak them in water until the color leaches out. Remove the solids and use the dye as you would use acid dyes.
There are several books in the HCRAG Library for those who want to learn more about natural wool dyeing.
dashed

April 2010—Spot dyeing with just primary colors is great fun and the results are often surprising. Keep in mind that when working with the primary colors, yellow is at least twice as weak as red or blue. Working the dye into the wool in some manner is imperative for getting the dye to properly settle into the fibers. You can do this with a spoon, or a potato masher, or by hand. The dye sits atop the wool if this is not done, and may result in the core of the wool not being properly dyed.
dashed

March 2010 — Casserole Dyeing — This month I want to share a favorite and easy dyeing technique known as casserole dyeing. Wet wool is placed in a flat pan with at least 3 inch high sides. Dye formulas are spotted over the wool. White vinegar should be added to the dye formula. Cook for 45 minutes on the stove or in a 300 degree oven for one hour. Cover with aluminum foil. Watch the steam, it burns!
dashed

February 2010 — Overdyeing— Overdye to make your wool more interesting. If you dye bright wool with its complementary color, it will calm the color down and make the wool more interesting to use in your rug.
Primary colors (red, blue and yellow) are absorbed into wool at different rates. The order of absorption is red first, blue second and yellow third. For example: when a dye formula using red, blue and yellow is added to the dye bath, and several pieces of wool are dipped in the dye pot one at a time, the wool that is dipped last may differ greatly from the wool dipped first. Much of the red and blue dye may have already been absorbed leaving a stronger yellow dye for the last piece.
dashed

December 2009—Salt & Jet Dry in Dyeing—The amount of water in the dye pot does not affect the color just the evenness of the dyeing. Some people add 1 tablespoon of non-iodized salt. It may help the dye to absorb better. If you want a mottled effect do not add salt. Some dyers recommend a drop of Jet Dry or another wetting agent in their dye pot to make the dye absorb better.
In the past two months, we discussed easy wool dyeing techniques. After removing the wool from the dye pot, it is important to always cool it slowly to prevent felting. Slowly run warm water, then tepid, then cool. Or just turn off the burner and let the wool cool in the pan.
dashed

November 2009—"Marbleizing" Wool— Last month, we discussed two easy wool dyeing techniques — "marrying" and "stewing". This month we will explore "marbleizing" wool. All three techniques are easy and require no investment in dyes or equipment. Thanks to Karen Kahle from Primitive Spirit (www.primitivespiritrugs.com), marbeleizing has become a routine for many rug hookers to enhance the colors of their wool. This is good for creating different colors of wools in the same background or in the same rug.
Pick a dark wool, like hunter green and then its complement medium to dark red or burgundy then a light shade of either pink or light green or a neutral like camel or tan.
Rip each piece into similar sizes.
Layer the pieces on top of each other, alternating the colors and tones. Dark, light, dark, light ….Roll together long ways like a jelly roll. Take rubber bands or twine and bind the roll in several places (think tie dye). The more rubber bands the better, at least five.
Fill a pan with just enough water to barely soak the wool. The wool should be dry.
Coil the roll up like a snake and put it into the bottom of prepared pot of water and detergent (Tide or Borax – no bleach). The coil should fill the pot. Use a pot to fit the wool. Push wool down with tongs to mix the detergent into the wool and to wet the dry coil.
Simmer for 30 minutes, do not boil. You can turn the coil or not.
After 30 minutes, add ½ cup of white vinegar and simmer for another 30 minutes or until the water is clear.
The results will surprise you and you will never be able to recreate the color!
Some colors to marbleize:
Navy, yellow and brown
Olive, camel and maroon
Dark red, light red and dark plum
Russet brown, camel and eggplant
Blue, camel and olive green
Blue, white and brown

back to top
da
shed

October 2009 — "Marrying and Stewing" Woo l— One of the easiest ways to play with the color in your rugs without any investment in dyes and equipment is "marrying", "stewing" and "marbleizing" wool. This month we will explore marrying and stewing wool.
To Marry Wool: Select several pieces of the same color wool. For this example we will use red. We often have several reds, but they do not match or look good together. You can marry them and bring the shades closer together. You can also use this method to tone down a color. One example: if you have a piece of bright blue that is too bright, put it with a piece of orange (complementary color). The two will marry to create two pieces of different colored but complementary wools that will be less bright but useable for the same project.
Fill pot 2/3 full of tap water. Add powdered Tide or Borax (no bleach) to the water. Stir to dissolve. Bring water to a boil, then turn down to simmer.
Add pre-soaked wool to prepared pot of water and detergent. There should be enough water so the wool is not packed and can move.
Simmer wool for 20-30 minutes. The wool will release some of their dyes and the colors will blend together. When a decent amount of dye is released, pour 1/3 cup of white vinegar in the pot and simmer for another 20-30 minutes.
To Stew Wool: The same approach as above is used, but you will have many different colors in the same pot. It blends all the colors and makes the wool compatible.
back to top